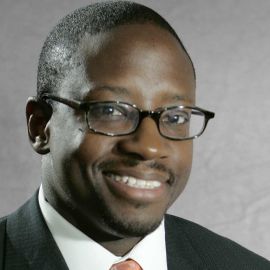 Anthony Bradley
Associate Professor of Theology and Ethics, Public Service Program, The King's College; Research Fellow, Acton Institute.
Anthony Bradley, Ph.D. is Associate Professor of Theology and Ethics in the Public Service Program at The King's College in New York City and serves as a Research Fellow at the Acton Institute.
Dr. Bradley lectures at colleges, universities, business organizations, conferences, and churches throughout the U.S. and abroad. His books include: "Liberating Black Theology: The Bible and the Black Experience in America" (2010), "Black and Tired: Essays on Race, Politics, Culture, and International Development" (2011), "The Political Economy of Liberation: Thomas Sowell and James Cone of the Black Experience" (2012), "Keep Your Head Up: America's New Black Christian Leaders, Social Consciousness, and the Cosby Conversation" (2012), "Aliens in the Promised Land: Why Minority Leadership Is Overlooked in White Christian Churches and Institutions" (forthcoming, 2013).
Dr. Bradley's writings on religious and cultural issues have been published in a variety of journals, including: the Atlanta Journal-Constitution, the Detroit News, and World Magazine. Dr. Bradley is called upon by members of the broadcast media for comment on current issues and has appeared C-SPAN, NPR, CNN/Headline News, and Fox News, among others. He studies and writes on issues of race in America, hip hop, youth culture, issues among African Americans, the American family, welfare, education, and modern slavery. From 2005-2009, Dr. Bradley was Assistant Professor of Systematic Theology and Ethics at Covenant Theological Seminary in St. Louis, MO where he also directed the Francis A. Schaeffer Institute.
Dr. Bradley holds Bachelor of Science in biological sciences from Clemson University, a Master of Divinity from Covenant Theological Seminary, and a Doctor of Philosophy degree from Westminster Theological Seminary. Dr. Bradley is also holds an M.A. in Ethics and Society at Fordham University.
Speech Topics
---
Social justice, sustainability and environmental justice, theology, masculinity and masculine formation, youth and family nurture, economics, politics, media and youth culture, ethics, Christian social teaching, race. Dr. Bradley also preaches in churches
Black and Tired
African American scholar Anthony Bradley understands the growing interest in the intersections of theology and economics emerging in light of Christianity's commitment to loving the poor. Local and global disparities in human flourishing call for prudential judgments that wed good intentions with sound economic principles. This book tackles the issues of race, politics, contemporary culture, globalization, and education by wedding moral theology and economics. For readers who enjoy the writings of African-American intellectuals like Walter Williams and Thomas Sowell, this book will be a breath of fresh air in terms of economics and public policy but is unique because it also explicitly applies Christian moral teachings to today's global concerns.