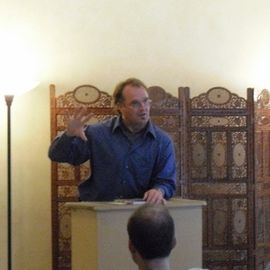 Anthony von Sager
Anthony von Sager, Speaker, Author, Champion, from Wheelchair to World Champion
Curriculum Vitae
Lic. Sport/rehab & fitness trainer, PE Coach, DSSV, DSB (Olympic Sport College) 84-86 Lic. Martial Arts Instructor: Kick-boxing, Karate, Boxing, Jiu-Jitsu, EU & US Int. Liz. License Security/Bodyguard Officer US & Europe. (Over 20 years experience)
Referent for Handicapped and injured people in Germany (DAKV DSB) 1986-93 President of: WKA-DBO Karate Assoc. Chapter of all states N. GER 1991-93 Physically Director of TX Headquarters YES Program of America 1993-96 Manager/ Fund-raiser of: Stay Save Program TX/USA 1996-97 Head Instructor (Karate) of, D.A.R.E. in Dallas, TX USA 1997-98 Head Instructor Tai Chi (Qi Gong) of, Q the Sports Club TX USA 1997-98
14 x State Free Style Martial Arts Champion, GER, DAN, TX etc 86 97 7 x US Free Style Martial Arts Champion, USA 93 - 97 8 x World Champion, NBL, SKI (variety different setting & divisions) 97 - 02
Program & Highlights:
Founder/Owner Top Four Martial Arts Academys GER 82-93 Founder Get Fit for Life Systems mid 1980th Founder Shin Tora Do Mixed Martial Arts System mid 1980th Founder Aqua Yoga Fitness Systems mid 1980th Personal Security & Self-defence workshops world wide begin 80th - present Author/Publisher: Power from within BushidoEyes in Darkness, my Daydreams etc. Get Fit for Life DVD Owner, Fight & Stunt, 2nd Unit Director, Cloud Dancer Media
Celebrated Motivational & Keynote Speaker, sense 80th till present - see website
NYU, NY, TCU TX, Peperdine Malibu, CA (2), Pace University NY, PAN State, Crossroads Schools CA, Park City UT, Sundance Film Festival, NAC Park City, Sport University Hamburg, NDR Germany, Impuls Fitness Wellness, Hillcrest High (Arrow 107, News 8, ABC News, CNN, GMT TX, CBS News TX, CBS News, SHZ GER)
Prof. William Arnold, World bestseller Author, Assoc Professor Pepperdine University Malibu, named Anthony (Quote) "A true Warrior of Life", truly authentic one of a kind Motivational Speaker - inspirational Leader! A must for any program & team builder!
Just to name a few Highlights across this Globe, see my website for more details, * For a full list of former Clients & Reference on request*
Anthony von Sager (00) 1 800 544 3615
[email protected] www.getfit4yourlife.com
Videos
---
Related Speakers View all
---
Shawn Rene Zimmerman

Professional Fitness Model and Celebrity Trainer

Jean Bailey Robor

Jean Bailey Robor, award-winning author and inspirat...

Hypnotist The Incredible BORIS

Award-winning Motivational Hypnotist and Keynote Spe...

Tina Marie Jones

Connecting with the audience through the style of a ...

Eric Gnezda

Singer, Songwriter, Educator, Author, TV Producer & ...

Roberto C. Candelaria

#1 Best Selling Author, Speaker, and Coach

Patrick Kasper

POSITIVE MOTION "Movement with a Message"

Katie Schmatz

Ohh the Possibilities...

Judith Baker

Christian and Business Management Speaker

Lori La Bey

Driving Change How Caregiving is Perceived, Received...

Mo Stegall

Global Brand Ambassador, Motivational Speaker, Bests...

David Hyner

Professional Speaker, "The Massive Goal Principle"

Shaun Hays

Master Speed Chalk Artist

Nick Lowery

Former NFL Placekicker .

Michael Cooley

Public Speaker

Michael McCain

Awakening Millions To Their Potential -Author, Coach...

Barry Reitman

Fast-paced, fun-filled memory improvement.

Andy Mouncey

Ultra-distance Athlete, Author, Goal-Setting Expert

Patricia Sadar

International Consultant, Inspirational Speaker & Le...

Tonia Renee Lee

Tonia Renee Lee is a professional speaker, minister,...
More like Anthony