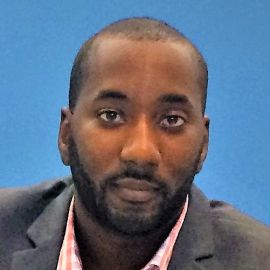 Anthony M. Williams
Business & Brand Strategist
Anthony M. Williams has been a consultant to major business enterprises and non-profit organizations, over a decade. His expertise has gained viable partnering relationships with business and community leaders across the United States & Abroad.
His experience is commensurate of over a decade training & recruiting top talent in the sectors of Government & Public Service, Healthcare, Finance, Education & Professional Service, for those representing America's Top Fortune 500.
As CEO of ConnectionGlobal, LLP Anthony has secured over $20M to fund client ventures within private aviation, and technology. His expertise lends itself to providing functional perspective on Entrepreneurship in the 21st Century. Mobile Influence, Global Brand Positioning, and Millennial Market Segmentation; are areas of expertise popular to ConnectionGlobal, LLP and his current itinerary, as he educates clients on its relationship to income and capital growth.
He continues to provide strategies to increase market-share through "Go-To-Market" Strategic Planning, Early-Stage Customer Acquisition, Social Innovation, and media advertising, since 2009. As a Strategy and Business Development expert, he has expanded his client-base across international borders and assists their efforts to enter new markets overseas.
In 2015, ConnectionGlobal, LLP acquired NBR & Associates a firm in Lagos, Nigeria started by the (late) Nomenee B. Robinson, a partner in business for over a decade. Today ConnectionGlobal, LLP continues to develop strategic partnerships in the United States and North and West African regions.
Anthony is also Founder and Board Chairman of Innovative Entrepreneur Inc., NFP, an education organization that teaches the fundamentals of Entrepreneurship, Innovation and Business Development; and Vice President of DPare' Media, LLC. Anthony, is passionate about education, and believes that higher learning should be engaged through conventional and non-conventional ways, as every individual think and learns differently. A noted Guest Lecturer, Speaker, and Global Businessman, he continually seeks to provide thought-leadership and innovative perspective, at every opportunity. Anthony is former host of 'The Innovative Entrepreneur' a national television show featured on 7 major cable networks, throughout 9 U.S. States, viewed in over 30 Million households.
Anthony holds a Bachelor of Arts degree in Political Science from DePaul University and a Masters' Degree of Business Administration from Loyola University Chicago's Quinlan School of Business, Executive MBA Program. He is married to Versie, Managing Partner of ConnectionGlobal, LLP.
Speech Topics
---
Power of Mobile Influence
Organizing for Innovation
What Matters to the Millennial
News
---
Connection Group becomes ConnectionGlobal
January 2017, Connection Group is proud to become ConnectionGlobal.
"This is a proud moment for us as we transition into offering Business and Professional Services, officially as ConnectionGlobal" said, Chairman-CEO, Anthony M. Williams. "For many years we have offered this service in a part-time capacity and now as the economy is reflective of an emerging market, and more individuals are piloting businesses, I am proud to be at the forefront of developing these initiatives in our U.S. Market."