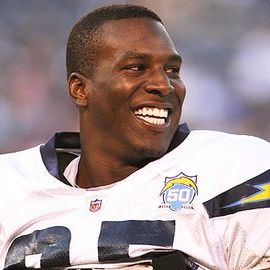 Antonio Gates
Professional Football Player for the Chargers
Antonio Gates has emerged as one of the NFL's most extraordinary success stories. In 2002, he stood within one victory of NCAA Basketball's "Final Four.", today, almost a decade later, Gates is an eight time Pro Bowl tight end and a five time All- Pro in the NFL. To anyone who knows sports, this is a remarkable feat! Antonio has been at the top of his game for almost a decade now. He has consistently shattered records, and produced stats that deem him an NFL icon and legend in the making. He is the only NFL player with at least seven touchdowns in each of the last eight seasons. There are presently seven modern-era tight ends enshrined in the Pro Football Hall of Fame and Gates' career touchdown total exceeds all seven. Antonio "Mr. Clutch" Gates has earned the reputation and thus the nickname for his ability to consistently pull in the catch on third down.
When Antonio signed with the Chargers in 2003 as an undrafted rookie, he had not played a football season since his senior year at Central High School in Detroit. Ironically, it was Antonio's NCAA basketball career that exposed his talent to NFL scouts. He had planned to play football and basketball at Michigan State, but a conflict arose preventing him from playing both sports. Gates then made hoops his priority and eventually decided on Kent State where he led the Golden Flashes to back-to-back conference championships and left as the school's sixth all-time scorer.
His unique and spectacular success in professional football exemplifies Antonio Gates appeal as the ultimate crossover artist. Antonio has met every opportunity and obstacle head-on, and this approach to life extends beyond the world of sports. Gates knows how to pull from his untapped potential and exceed even the loftiest of expectations. His incredible smile has lit up the small screen from shows like "The Late Late Show with Craig Ferguson," "The Jimmy Kimmel Show", NFL Network, ESPN, Spike TV, Nickelodeon and more. He has also been featured in a diverse array of magazines from the covers of The Hollywood Reporter, Sports Illustrated and PACIFIC Magazine, to the pages of Essence, FHM, and ESPN The Magazine. Antonio has a variety of endeavors on and off the field that, coupled with his good looks, charm and talents, lends to a plethora of opportunities and creates an extraordinary demand for this crossover star.
Aside from his passions and successes in the limelight, Antonio thrives when provided the opportunity to give back to his community. From 2006 to present Antonio has held an annual "Shop with a Charger" event, which helps bring much needed holiday joy to underprivileged youth in the San Diego community. In the summer of 2004, he was also asked to serve as honorary chairman for "Shoot to Cure HD," a free throw shooting event that raises money for the Huntington's Disease Society of America and has actively participated in the event and cause ever since. Antonio's philanthropic impact can be felt outside the borders of his Sand Diego community as well. He is aggressive and passionate about giving back to his hometown, Detroit, where he sponsors an annual free football camp for underprivileged children. Antonio's passion to give back to his community is a true reflection of his honorable character and multifaceted personality. The San Diego Chargers took a chance on this college basketball star, but with eight Pro Bowls, record-breaking stats, and unparalleled consistency on the field, it is apparent that taking a chance on Antonio Gates was a gamble that turned into gold.