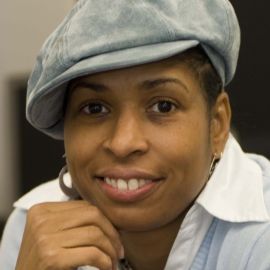 Aerospace engineer Aprille Ericsson-Jackson's career is distinguished by "firsts." Ericsson-Jackson considers her most prestigious the honor of being the first person of color to receive The Washington Award from the Western Society of Engineers. She is the first African-American female to receive a Ph.D. in Mechanical Engineering from Howard University (HU) and the first African-American female to receive a Ph.D. in Engineering at the NASA Goddard Space Flight Center (GSFC), where she currently serves as New Business lead for the Instrument Systems and Technology Division.
During her quarter-century-long tenure with NASA, Ericsson-Jackson has worked as an Aerospace Engineer, Technologist, Project and Program Manager and Executive. She has taught at several universities, including Howard University, University of Maryland, and Bowie State University. Ericsson-Jackson has been named one of the top 50 minority women working in science and engineering fields by the National Technical Association and she was ranked 8 of 20 on the 2016 list of the Most Powerful Women Engineers by Business Insider.
Raised in the projects of Bedford-Stuyvesant, Ericsson-Jackson began her education being bussed to an elementary school in Brooklyn. In her last year of junior high school, she won second place in the science fair. At age 15, she decided to move to Cambridge, Massachusetts, where she lived with her grandparents and attended the Cambridge School of Weston on scholarship.
After graduating high school, she attended MIT, where she earned a bachelor's degree in Aeronautical/Astronautical Engineering. During her time there, she was involved in several aerospace research projects and lead the research for Manned Mars Mission crew systems for interplanetary vehicles for her senior project.
She earned her masters and doctoral degree at Howard University, where her research focused on developing practical design procedures for future orbiting space structures, like the Space Station.
Ericsson-Jackson's work as an aerospace engineer has presented many opportunities to fulfill her dream of advancing space flight. Additionally, she has traveled extensively throughout the world, presenting papers on her research in the US, Canada, Germany, Netherlands, England, South Africa, and Mexico. She has also been a Guest Researcher at Radcliffe Institute/Harvard University and she has acquired a Leadership & Management Certificate from John Hopkins University.
She speaks to young people across the country -- especially minorities and women -- to encourage them to follow in her footsteps. She mentors student every year and 20 years ago she created an email pipeline for groups underrepresented in Science, Technology, Engineering and Mathematics (STEM) disciplines. This pipeline distributes opportunities for employment, grants, internships, and fellowships.
Ericsson-Jackson's many honors and awards include an Honorary Doctor of Science from Medgar Evers College, The Tau Beta Pi Alumni of Distinction, The Washington Award, The Women's Network "Top 18 Women Who Will Change the World," National Technical Association's "Top 50 Minority Women in Science and Engineering," the Women in Science and Engineering Award for Engineering Achievement, the Black Engineers Award Conference Special Recognition Award, and several NASA Goddard Space Flight Center Honor Awards, which include an Excellence in Outreach and Technical awards for several Space mission projects.
Videos
---
Related Speakers View all
---
Emily Calandrelli

Aerospace Engineer; Host & Producer of FOX's "Xplora...

Danielle Feinberg

Director of Photography at Pixar Animation Studios; ...

Olympia LePoint

Award-Winning Rocket Scientist, Self-Help Author & H...

Alyssa Carson

Youngest Ever Astronaut in Training; Space Travel En...

Story Musgrave, M.D.

Retired NASA Astronaut; Physician & Professor at Art...

Abigail Harrison

Founder of The Mars Generation, STEM Advocate & Inte...

Meredith Walker

Co-Founder & Executive Director of Amy Poehler's Sma...

Nikki Giovanni

Poet, Educator & Best-Selling Author

Amelia Rose Earhart

President of the Fly With Amelia Foundation; One of ...

Fran Hauser

Media Executive, Startup Investor & Best-Selling Aut...

Ellen McGirt

Senior Editor at Fortune Magazine & "RaceAhead" Col...

Katrina Jones

Diversity & Inclusion Leader at Amazon Web Services

J.R. Martinez

Actor, Best-Selling Author, Motivational Speaker, Ad...

Lolita Taub

Latina Tech Venture Capitalist; Co-Founder & General...

Yvonne Cagle

NASA Management Astronaut & Retired U.S. Air Force C...

Tracy Chou

Advocate for Diversity & Inclusion Expert in the Tec...

Kimberly Bryant

Founder & CEO of Black Girls CODE

Ashanti Johnson

Geochemist & Chemical Oceanographer; Diversity & Wom...

Shannon Miller

Olympic Gold Medalist, Health Advocate & Cancer Surv...

Coach Ken Carter

Coach, Author, Educator & Inspiration for the Film "...
More like Aprille