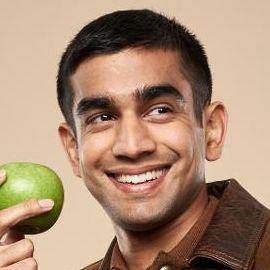 Arjun Singh is the Cofounder of Gradescope, an app that grades exams and allows teachers to give students instant feedback. 450 schools worldwide, including MIT and Imperial College London, have used Gradescope. Singh was recognized as a Forbes 30 Under 30 honoree for education for his work with Gradescope.
Singh received a B.S. and PhD from University of California, Berkeley.
News
---
Arjun Singh
As a Berkeley computer science Ph.D student, Arjun Singh taught artificial intelligence. But when it came time to correct his student's work, he found himself  ...
Related Speakers View all
---
Yoran Brondsema

Forbes 30 Under 30 in Education; Cofounder, Sutori

Richard Werbe

Forbes 30 Under 30 in Education; Cofounder, Studypoo...

Thomas Ketchell

Forbes 30 Under 30 in Education; Cofounder, Sutori

E.J. Carrion

Forbes 30 Under 30 in Education; Cofounder, Student ...

Kevin Wu

Forbes 30 Under 30 in Education; Cofounder, OneClass

Jack Tai

Forbes 30 Under 30 in Education; Cofounder, OneClass

Jackey Li

Forbes 30 Under 30 in Education; Cofounder, OneClass

Justin Ling

Forbes 30 Under 30 in Education; Cofounder, EquitySim

Andrew Hill

Forbes 30 Under 30 in Education; Cofounder, LiftEd

Zack Perkins

Forbes 30 Under 30 in Education; Cofounder, CollegeVine

Vinay Bhaskara

Forbes 30 Under 30 in Education; Cofounder, CollegeVine

Anshul Arora

CEO of Edvance Group

Christopher Rim

Forbes 30 Under 30 in Education; Founder, Command Ed...

Maggie Peng

Forbes 30 Under 30 in Education; Cofounder, OneClass

Ricky Hurtado

Forbes 30 Under 30 in Education; Coexecutive Directo...

Melissa Lee

Founder, CEO at The GREEN Program

Nick Garvin

Forbes 30 Under 30 in Education; Founder, Stackup

Jonathan García

Forbes 30 Under 30 in Education; Senior Director, St...

Bob Moesta

Founder, President & CEO of the Re-Wired Group

Jesse Vaughan

Forbes 30 Under 30 in Education; Cofounder, Landed
More like Arjun