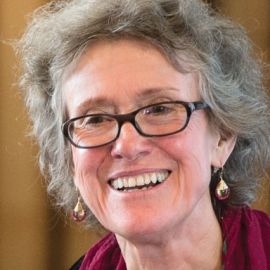 Arlie Russell Hochschild
Professor Emerita of Sociology at UC Berkeley, Author of 'The Outsourced Self'
Arlie Hochschild was born in Boston Massachusetts on January 15, 1940. Her father was Francis Henry a diplomat and her mother was Ruth Russell. Arlie married Adam Hochschild who is a magazine editor in June 1965 and has two children of her own, David Russell and Gabriel Russell. Dr. Hochschild also has one granddaughter as well, a possible muse for her children's book, we can only suggest. She received her B.A. from Swarthmore College in 1962, her M.A. in 1965 and Ph. D. in 1969; she received both of these degrees from the University of California, Berkeley.
Hochschild grew up in a very gendered home, with her mother being the care taker and her father the breadwinner. Although her mother did more then be solely the homemaker wife, she also "volunteered for the PTA, and helped start a preschool program in Montgomery County, Maryland, all the while supporting my father's career as a government official and diplomat." (Hochschild, Commercialization, 3). From this experience of home life as a child, Hochschild drew on these experiences to enable her to do research and write about care giving and having the caring relationship with your children. She explains to us in the introduction of her book, The Commercialization of Intimate Life, that her mother was very good one and she devoted her life to caring for the family and was great at it, but never really seemed happy to be doing so.
Politically she is "liberal" and religiously she is Agnostic. She is a member of the American Sociological Association, the Sociologists for Women in Society, the American Gerontological Society, the American Federation of Teachers, Sociological Research Association, and lastly, the International Association for Research on Emotion.
After reading parts of her books and her thoughts on her research and others reactions to her books, I feel that Hochschild takes her research and findings and uses them to shape how she leads her own life and how she provides care for her own children and grandchildren as well. Being able to draw on her own experiences in life, gives her passion for what she is researching next and you can see it in her writings as well. This passion and interest that she has is what makes her books so relatable to the readers.
She is currently both a writer and a teacher. She has taught at the University of California, Santa Cruz as the assistant professor of Sociology from 1969 to 1971 and at the University of California, Berkeley where she is currently the professor of sociology from 1983 to now, but before that she was the assistant professor from 1971 to 1975 and then associate professor from 1975 to 1983.
""Sociologist Arlie Russell Hochschild is one of a privileged breed, an academic with a popular following," wrote Suzanne Mantell in Publishers Weekly." (galenet, 4). Her writings about the "second shift, and the "time bind" may both be a result of her own personal life and the results of her trying to juggle both success and family. While she was beginning at the University of California at Berkeley, Hochschild was the mother of two children and was probably struggling with trying to make it in "a man's world" and being a good mother at the same time.
Related Speakers View all
---
Kathryn Edin

Sociologist & Bloomberg Distinguished Professor at J...

Ann Mullen

Sociology Professor at the University of Toronto; So...

Elizabeth Warren

U.S. Senator, Massachusetts

Julianne Malveaux

Author, Economist, Founder & Thought Leader Economic...

Gloria Feldt

Leading Activist & Best-Selling Author

Angela Davis

Feminist, Social Activist, Professor & Writer

Ailbhe Smyth

Co-Director of Together for Yes; Women's Rights Acti...

Jane Sherron De Hart

Political Historian & Author of "Ruth Bader Ginsburg...

Victor Rios

Educator, Author, & Creator of Project GRIT

Marianne Cooper

Sociologist & Lead Researcher for " Lean In: Women, ...

Karima Bennoune

Professor of International Law, Author, "Your Fatwa ...

David Williams

Professor of Public Health at Harvard University

Dr. Deborah Tannen

Relationship & Communication Expert

Rachel Simmons

Bullying and Leadership Expert

Asra Nomani

Journalist & Author, Women's Rights Activist

Jonathan Kozol

Educator & Social Justice Advocate

Najat Vallaud Belkacem

CEO of Global Affairs at IPSOS

Dawn Laguens

Former Executive Vice President & Chief Brand Office...

Lara Bazelon

Director of the Criminal Juvenile & Racial Justice P...

Theo Sowa

CEO of African Women's Development Fund; Advocate fo...
More like Arlie