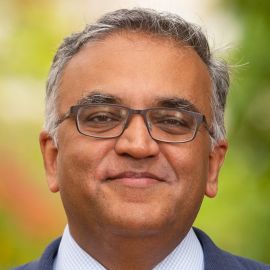 Ashish K. Jha, MD, MPH.
Dean of the School of Public Health at Brown University & Expert on Pandemic Preparedness
A practicing physician, Ashish K. Jha, M.D., M.P.H., is recognized globally as an expert on pandemic preparedness and response as well as on health policy research and practice. He has led groundbreaking research around Ebola and is now on the frontlines of the COVID-19 response, leading national and international analysis of key issues and advising state and federal policy makers.
Dr. Jha has published more than two hundred original research publications in prestigious journals such as the New England Journal of Medicine and the BMJ, and is a frequent contributor to a range of public media. He has extensively researched how to improve the quality and reduce the cost of health care, focusing on the impact of public health policy nationally and around the globe.
On September 1, Dr. Jha started his role as the Dean of the School of Public Health at Brown University. Before that, Dr. Jha was a faculty member at the Harvard T.H. Chan School of Public Health since 2004 and Harvard Medical School since 2005. He was the Faculty Director of the Harvard Global Health Institute from 2014 until September 2020. From 2018 to 2020, he served as the Dean for Global Strategy at the Harvard T.H. Chan School of Public Health. A general internist previously with the West Roxbury VA in Massachusetts, Dr. Jha will continue his practice at the Providence VA Medical Center.
Dr. Jha was born in Pursaulia, Bihar, India in 1970. He moved to Toronto, Canada in 1979 and then to the United States in 1983. In 1992, Dr. Jha graduated Magna Cum Laude from Columbia University with a B.A. in economics. He received his M.D. from Harvard Medical School in 1997 and then trained as a resident in Internal Medicine at the University of California, San Francisco. He returned to Boston to complete his fellowship in General Medicine from Brigham and Women's Hospital and Harvard Medical School. In 2004, he completed his Master of Public Health degree at the Harvard T.H. Chan School of Public Health. He was elected to the National Academy of Medicine in 2013.
Videos
---
Speech Topics
---
COVID-19 in the US
Where are we now in the pandemic?
How did we get to this point in the US?
What will the next 6 to 12 months bring?
COVID 19 – The Global Perspective
Using a global lens to under how the pandemic has shifted across the globe
How different nations have responded
What can countries learn from one another in terms of international response to COVID 19?
COVID19 and the Future of the US Healthcare System
What are the major effects of the pandemic on the US healthcare system?
Who have been the big winners and losers?
What are the likely changes that are coming? Beyond telemedicine – how will payment models, workforce issues change?
Pandemics and Pandemic Preparedness: Life after COVID
COVID is ushering in an era of more intense disease outbreaks and pandemics
How COVID has exposed the weak global pandemic preparedness approach
What are the major investments we need to make to be better prepared for future outbreaks?
What are things that companies/private sector needs to do?
What is the role of government in preparing for future outbreaks?
Why Does the US Spend So Much More on Healthcare than Other Nations
What are the major factors that drive higher spending than other high income countries?
Why has most of the senior health policy community gotten this so wrong and how can we use data to explain higher spending?
What are key policy prescriptions that are needed to bring healthcare spending under control?
Related Speakers View all
---
Dr. Syra Madad

Nationally Recognized Leader in Public Health & Infe...

Sampson Davis, M.D.

Emergency Medicine Physician & Best-Selling Author, ...

Georges C. Benjamin, MD

Executive Director, American Public Health Association

Marty Makary, M.D.

Healthcare Futurist, Johns Hopkins Surgeon & Profess...

Dr. Francis Collins

Director of the National Institutes of Health (NIH)

Dr. Vin Gupta

Public Health Physician, Professor & Health Policy E...

Ofer Levy

Infectious Disease Specialist

Joshua Sharfstein

Vice Dean for Public Health Practice and Community E...

David Agus

Professor of Medicine and Engineering at the Univers...

David Ansell

Senior Vice President for Community Health Equity at...

Dr. Joel Selanikio

Award-Winning Physician, Health & Technology Activis...

Paul Keckley, PH.D

Independent Healthcare Research & Policy Analysis

Dr. Anthony Fauci

Director of the National Institute of Allergy and In...

Brandon David Lewis Marshall

Associate Professor of Epidemiology at Brown University

Wilson Compton

Deputy Director of the National Institute on Drug Ab...

Gavin Yamey

Director of the Center for Policy Impact in Global H...

Jennifer Nuzzo

Epidemiologist & Senior Scholar at the Johns Hopkins...

Stuart H. Cohen

Chief of Infectious Diseases at UC Davis Health

Dr. Mikhail Varshavski

Known as "Doctor Mike;" Leading Medical Media Voice ...

Dr. Paul Offit

Director of the Vaccine Education Center, Children's...
More like Ashish