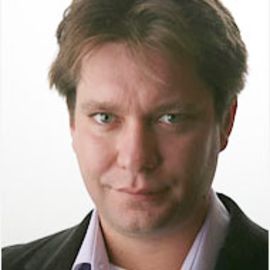 Ashlee Vance
Award Winning Feature Writer Bloomberg Businessweek; Author of "Elon Musk: Tesla, SpaceX, and the Quest for a Fantastic Future"
Ashlee Vance is an award winning feature writer at Bloomberg Businessweek. He is the author of "Elon Musk: Tesla, SpaceX, and the Quest for a Fantastic Future." Previously, he worked as a reporter for The New York Times, The Economist and The Register.
In "Elon Musk: Tesla, SpaceX, and the Quest for a Fantastic Future," veteran technology journalist Ashlee Vance provides the first inside look into the extraordinary life and times of Silicon Valley's most audacious entrepreneur. Written with exclusive access to Musk, his family and friends, the book traces the entrepreneur's journey from a rough upbringing in South Africa to the pinnacle of the global business world. Vance spent over 50 hours in conversation with Musk and interviewed close to 300 people to tell the tumultuous stories of Musk's world-changing companies: PayPal, Tesla Motors, SpaceX and SolarCity, and to characterize a man who has renewed American industry and sparked new levels of innovation while making plenty of enemies along the way.
Vance uses Musk's story to explore one of the pressing questions of our time: can the nation of inventors and creators which led the modern world for a century still compete in an age of fierce global competition? He argues that Musk--one of the most unusual and striking figures in American business history--is a contemporary amalgam of legendary inventors and industrialists like Thomas Edison, Henry Ford, Howard Hughes, and Steve Jobs. More than any other entrepreneur today, Musk has dedicated his energies and his own vast fortune to inventing a future that is as rich and far-reaching as the visionaries of the golden age of science-fiction fantasy.
Videos
---
Related Speakers View all
---
Alex Salkever

Futurist, Author of "The Driver in the Driverless Ca...

Garrett Reisman

Astronaut, Professor of Astronautical Engineering at...

Jamie Metzl

Technology and Healthcare Futurist, Sci-Fi Novelist ...

Ryan Blair

Successful Entrepreneur & Author of "Nothing To Lose...

James Canton

Futurist, Author & Visionary Business Advisor

Tiffani Bova

Growth and Innovation Evangelist for Salesforce, Sal...

Arlan Hamilton

Founder & Managing Partner at Backstage Capital, Tec...

Stacey Higginbotham

Seasoned Tech Journalist, Host of IoT Podcast

Gabe Klein

Entrepreneur, Author & Former Commissioner of the Ch...

Vic Strecher, Ph.D. MPH

Founder, JOOL Health; Professor, University of Michi...

Ayesha Khanna

The Leading Expert on Our Intelligent Future

Sophia Amoruso

Founder & Former CEO of Nasty Gal; New York Times B...

Saj-Nicole Joni

Business Strategist & Advisor

Garry Kasparov

World Champion Chess Expert & Strategist; Chairman o...

Shiv Malik

Head Of Communications at Streamr, Author & Former I...

Alex Nascimento

Co-Founder at Blockchain at UCLA Lab

Angel Rich

Founder & CEO of The Wealth Factory

Joe Toscano

Founder of Design Good & Author of "Automating Human...

Katrina Owen

Programmer, Creator of exercism

Rohan Patel

Director of Policy and Business Development, Tesla. ...
More like Ashlee