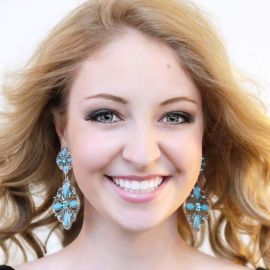 Ashley Michelle Berry
Anti-Bullying Advocate, Actress, TV/Radio Host and Professional Speaker
Seventeen year old Ashley Berry is a formerly shy, quiet girl who didn't like speaking in front of people until she began looking for opportunities at the age of ten that allowed her to do just that. Suddenly you couldn't get her off stage or away from the camera! Ashley started competing in "natural" pageants (no makeup allowed) that helped improve her confidence and gave her a desire to go out into her community and make a difference. There was no telling where you would find her at any given time…on stage in a community play or talent competition, acting or modeling in front of the camera, volunteering for any number of organizations in the community, studying to keep her Honor Roll status, lobbying for anti-bullying legislation, coordinating one of her G.I.R.L.S. Workshops (Girls Inspiring Real Leadership Skills) or making an appearance as Miss Colorado Jr Teen 2014.
Even in the midst of her whirlwind schedule balancing school and community activities, Ashley couldn't escape the experience that many of today's youth are being forced to endure. Along with the relative fame that comes with many of Ashley's outside interests and activities came what is most often referred to as the "mean girl" syndrome. Suddenly, those closest to Ashley seemed to turn on her and her own life turned upside down as she has now spent the last six years battling depression and anxiety.
With the help of her family and teachers, Ashley gained the confidence to stand up for herself and others to help ensure that no one else go through what she has. Ashley is now an internationally recognized anti-bullying advocate and openly shares her experiences in the media and through public speaking opportunities. In addition to receiving various awards for her volunteer efforts, she has been recognized as a recipient of the Teens Who Inspire Us award, as an Inspirational Youth by organizations such as Inspire Me Today, Kids Are Heroes and Today's Honoree. Ashley has also received a local Channel 7 Everyday Hero award and was named a Global Teen Leader through ThreeDotDash.org. Ashley has been featured in interviews with KMGH Channel 7, KCNC Channel 4, Colorado's Everyday Show, CNN, The New York Times, Scholastic Choices magazine and many others. She is a frequent guest and co-host on various radio shows and has been a keynote speaker for organizations such as Do The Write Thing, Stand Up & Speak Out and many others. Ashley works hard to reach out to students across the country so that she can encourage them and share her motto "Don't let the bully define you, instead let them inspire you to make a difference in the world!