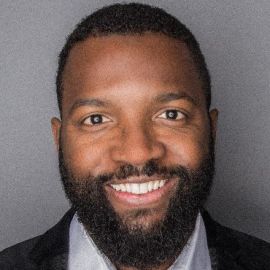 Baratunde Thurston is a futurist comedian, writer, and cultural critic who helped re-launch "The Daily Show with Trevor Noah", co-founded "Cultivated Wit and the About Race" podcast, and wrote the New York Times bestseller "How To Be Black". Thurston is a highly sought-after public speaker, television personality, and thought leader who has been part of noteworthy institutions such as Fast Company, TED, the MIT Media Lab, The Onion, and the gentrification of Brooklyn, New York.
His creative and inquisitive mind, forged by his mother's lessons and polished by a philosophy degree from Harvard, have found expression in the pages of Fast Company, the screens of HBO, Comedy Central, CNN, MSNBC, BBC, the sound waves of NPR and podcasts, including "Our National Conversation About Conversations About Race", which he co-founded. He has hosted shows and stories on NatGeo, Discovery's Science Channel, Yahoo, AOL, YouTube, and Pivot TV. In 2016 he hosted a special three-part PBS series of TED Talks and earned a Daytime Emmy nomination for the Spotify/Mic series, "Clarify".
Far from simply appearing in media, Baratunde is also helping define its future. In 2006 he co-founded "Jack & Jill Politics" , a black political blog whose coverage of the 2008 Democratic National Convention has been archived by the Library of Congress. From 2007 to 2012, he helped bring one of America's finest journalistic institutions into the future, serving as Director of Digital for "The Onion" and Supervising Producer for digital expansion at "The Daily Show with Trevor Noah".
In 2012, he co-founded "Cultivated Wit", a comedic digital company on a quest to merge comedy and technology into a new genre of creative expression, with Brian Janosch and Craig Cannon. The company produces Comedy Hack Day during which developers and comedians collaborate to make intentionally funny tech projects that humanize technology while offering social commentary on the world at large.
Thurston was nominated for the Bill Hicks Award for Thought Provoking Comedy. The Root named him to its list of 100 most influential African Americans, and Fast Company listed him as one of the 100 Most Creative People In Business.
He has advised the Obama White House and serves on the National Board of BUILD, an organization that uses entrepreneurship-based experiential learning to propel underserved youth through high school on to college and career success. He also serves as a mayoral appointee to the Brooklyn Public Library board of trustees.
Speech Topics
---
Creative Digital Strategy That Works
Comedian and Former Onion Director of Digital Baratunde Thurston pushes the envelope on the latest web platforms. Whether personifying The Swine Flu on Twitter, treating a Foursquare mayor battle as legitimate politics or live-blogging his experience clearing an exit ramp on Lakeshore Drive during Chicago's epic blizzard of 2011, he's found ways to do more than post photos and beg for followers. Far beyond delivering comedy and shock value, Baratunde has also delivered results and proven an ability to engage communities. Tune in for an entertaining and insightful journey that explores the limits of your favorite digital platforms and gets at the very heart of what it is to be human. Ideal for audiences with an interest in: marketing, social media, digital strategy, the future of media, future of news
Correspondent From The Future
In this technology and future-oriented talk, Baratunde goes behind the scenes of his television show as well as his past digital strategy work at The Onion and other companies to give a deeper analysis of the issues raised in his exploration of the future. From self-driving cars to creepy Japanese robots to a real, functioning orgasmatron, Baratunde will share anecdotes, images and a thoughtful, provocative and humorous analysis of what the future might hold. Ideal for audiences with an interest in: technology, science, the future, television, TV production, media
The Role of Satire / Comedy in Politics
Generally, and democracy specifically. He is also regularly invited to speak on The Future of News / Media and to discuss race, politics, comedy/satire and the media.
Digital Future & Storytelling
Related Speakers View all
---
DeRay Mckesson

Civil Rights Activist & Host of "Pod Save The People"

Bakari Sellers

Author, Attorney, Political Commentator & Youngest A...

Hill Harper

Actor, Author & Philanthropist; Best Known For "CSI:...

Donna Brazile

Veteran Political Strategist, Bestselling Author, Fo...

Daymond John

"Shark Tank" Investor; Founder & CEO of FUBU; Presid...

Angela Davis

Feminist, Social Activist, Professor & Writer

J.R. Martinez

Actor, Best-Selling Author, Motivational Speaker, Ad...

Nikki Giovanni

Poet, Educator & Best-Selling Author

Ilyasah Shabazz

Daughter of Malcolm X, Professor & Author

Van Jones

CNN Political Contributor; Author; Human Rights, Edu...

W. Kamau Bell

Stand-Up Comedian & TV Host; Best Known for "United ...

Yvonne Orji

Actress, Comedian & Writer, Known for HBO's "Insecure"

Mitch Lowe

Co-founding Executive of Netflix & President of RedBox

Joy-Ann Reid

MSNBC Correspondent, Political Author & Former Host ...

Shiza Shahid

Entrepreneur, Technologist, Investor, Impact Leader ...

Dr. Michio Kaku

World-Renowned Futurist & Theoretical Physicist

Wes Moore

CEO of Robin Hood Foundation, Best-Selling Author & ...

Randi Zuckerberg

CEO & Founder of Zuckerberg Media, Author

Maya L. Harris

Former Campaign Chairwoman for Kamala Harris's 2020 ...

Josh Linkner

Five-Time Tech entrepreneur, Hyper-Growth CEO, New Y...
More like Baratunde