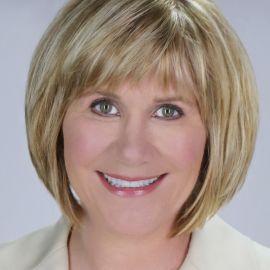 Barbara Bartlein
Workplace culture and productivity expert
Barbara Bartlein, RN, MSW, CSP, is a workplace culture expert. For over 30 years, her presentations and seminars have helped professionals, teams and leaders build high performing workplaces. A clinical psychotherapist and former VP of Columbia-St. Mary's Hospital System, she understands people and organizations.
Presenting over 60 programs per year, Barbara's high energy keynotes and seminars improve teamwork, increase cooperation and productivity. Barbara is a high content speaker who educates, entertains and motivates professionals to improve workplace performance.
Barbara is the past president of the National Speakers Association-WI chapter. She has earned the (CSP) designation, the highest earned honor given by the National Speakers Association. Held by fewer than 10% of the speakers in the world, the CSP is the speaking profession's international measure of professional platform skill.
The best selling author of three books, she is also a contributor to four Chicken Soup for the Soul books. Her newest work, Energy Suckers – How to Deal With Bullies in the Workplace, is being used by companies and teams to improve organizational culture.
Barbara has been featured nationally on CNN, NBC, Bill O'Reilly, FOX TV and USA Today. Her client list includes top Fortune 500 companies, including Johnson Controls, Northwestern Mutual, Discover Card, Aurora Healthcare and Miller Brewing.
Speech Topics
---
Building High Performing Teams
Using the DISC Style Analysis Tool, participants identify their own personal style and the style of others. You learn the communication techniques for each style to maximize individual and team performance. You learn:
recognition of the four basic behavior styles
Identifying your own strengths and areas for improvement
Communication skills for better teamwork
Implications for each style in building stronger teams
Team Building Magic
Looking to have your team work closer together and more collaboratively? We conduct an interactive program where the gout breaks into teams and participates in fun challenges. The progress of the teams is then processed and the participants get an opportunity to see how they function in the group. You team will:
Survive a place crash
Transport "toxic waste"
Balance nails
Lower a helium stick
Compassion Fatigue
Compassion fatigue is a form of burnout that manifests itself as physical, emotional and spiritual exhaustion. It has been referred to as the "cost of caring" for healthcare practitioners and others who work in helping professions. The comprehensive and entertaining program presents the latest research on the biology of compassion, understanding fatigue and how to prevent it.
In this program, you learn:
Who is most vulnerable to compassion fatigue
The new research into the biology of compassion
How to construct systems to create more time
The concept of psychic numbing
Taking Charge of Your Time
A recent study of a thousand business people reported that 89% take work home, 65% work more than one weekend a month and 53% spend less than two hours a week looking after their children. No wonder too many of us complain that we don't have enough time. Learn how to take charge of your time to get more out of life; at work and at home. You will learn:
The two biggest workplace pressures
Symptoms of poor time management
How to set priorities
The difference between development and maintenance activities
The enemies of time management
How to use time to your benefit
Bury My Heart at Meeting Room "C" - How to Run Effective Meetings
According to the Annenberg School of Communication at USC, a typical manager attends five meetings a week and averages two hours and 14 minutes each day in the meeting room. Make the meetings you lead and attend more effective with positive outcomes. You will learn:
How to determine if a meeting needs to take place
The importance of picking the best venue to make the meeting efficient
How to create an agenda and stay on track
Who should be in charge and why
How to record the discussion and decisions
Why it is critical to give assignments to participants with timeframes
I'd Rather Die Than Give a Speech
It is often said that the greatest fear is the fear of speaking. An even bigger fear is lessening to a poor presentation! Enhance your presentation skills by learning the secrets great speakers use. In this seminar, you learn:
To identify the five rules of excellent speech preparation
The eight steps for creation of a presentation or speech
How to develop the "opener" and "closer"
The importance of story telling to make the point memorable
Skills to research and establish rapport with an audience
To identify techniques to increase confidence and decrease nervousness
How to build credibility and authority through the use of statistics, examples and visual aids
Building the Habit of Success
What does making your bed, flossing your teeth, and exercising have in common? They are three habits of very successful people. New research into how we form and change habits can help you transform your life. You learn:
The latest research on habit formation
Why it is so difficult to extinguish "bad" habits
The importance of building "keystone" habits
How to recognize triggers for habits and change your response
Balancing Act
Laugh your way to better balance as you realign work, home, and other demands. Utilizing humor, this presentation focuses on our changing culture and the effects on our lives. You learn:
To evaluate your personal balance utilizing the "Balance Wheel"
The top three strategies to re-balance
How to enhance your ability to say "no" and set realistic limits
Techniques to simplify your life at home and at work
The Magic of Making a Difference
Designed for helping professionals, this entertaining and inspirational presentation motivates with laughter. Successful, happy people are those focused on giving to others and following their personal passion. You learn:
To identify the three facts for happiness
The importance of doing the right thing
How to avoid the expectation machine
The value of small kindnesses in making a difference
Energy Suckers - How to Deal With Bullies in the Workplace
Bullying is an epidemic in the workplace and appears to be increasing. In recent surveys, it is reported that over 35% of workers have experienced bullying firsthand. Make your workplace bully free with this comprehensive training program. You learn:
The high cost of bullying to American business
Common bullying behavior
How the bully chooses targets
What you can do if you are being bullied
How to make your organization bully free
Energy Suckers - The Seven Types of Bullies
Energy suckers can emerge in any workplace and bully those around them with their gossip, criticism, and just rude behavior. Learn about the different types of energy suckers and how you can deal with them in this fun program. The seven types you will learn:
Stress puppies - pressure bullying
Underdogs - needy bullying
C-Gull managers - corporate bullying
Know-It-Alls - narcissistic bullying
Energy suckers - emotional bullying
Repeaters - serial bullies
Sociopaths - psychopathic bullies
Growing at the Speed of Change
To grow your business you need to grow your people. Enhance the abilities of your employees by building the mentoring and coaching skills of management. You learn:
The manager's role in a learning organization
The value of regular meetings to offer feedback in a structured format
The process of 'feedforward' to produce personal change
The four key beliefs that make it difficult for successful people to change
Eight ways to avoid stupid management
Related Speakers View all
---
Amanda Gore

CEO, The Joy Project; Hall of Fame Motivational Spea...

Loretta LaRoche

Author, Humorist, Stress Expert & TV Personality

Judy Carter

Master Teacher, Author, and Humorous Speaker

Eileen McDargh, CSP, CPAE

Healthcare Consultant & Author of "The Resilent Spirit"

Mimi Donaldson

Speech Coach & Author of "Negotiating for Dummies" a...

Christine Cashen

Hall of Fame Motivational Speaker; Author of "The Go...

Colette Carlson

Human Behavior Expert; Hall of Fame Motivational Spe...

Linda Armstrong Kelly

Single Mother of Lance Armstrong; Philanthropist & A...

Barbara Glanz

The Employee Motivation Expert

Fran Solomon

Specialist in Fun At Work, Teams and Stress Management

Vicki Hitzges

Work Environment Expert & Author

Karyn Buxman

Author, Neurohumorist & Inductee of the Speaker Hall...

Frank Bucaro

Business Ethics Advocate, Author & Trainer

Dianna Booher

Communication Expert & Chief Executive of Booher Res...

Ariane de Bonvoisin

Founder and CEO of First30Days.com & Author, "The Fi...

Emory Austin

Authority on Leadership, Change & Customer Service

Connie Podesta

Expert in Changing Lives; Author of "Life Would Be E...

Christine Clifford

Bestselling Author, Professional Speaker & Breast Ca...

Gary Bradt, PhD

Change, Leadership & Life Balance Expert; Author of ...

Matt Weinstein

Innovative Teambuilding Expert
More like Barbara