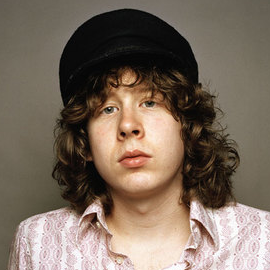 Fearless and freewheeling, Ben Kweller has earned a well-deserved reputation as one of the most compelling musical artists of the day. BK shows off his gift for crafty songwriting and kinetic performance with his ATO Records debut album, SHA SHA. Encompassing anti-folkadelica, indie-punkpop and soaring ballads, Kweller's warm, whimsical wordplay and unstoppable power-pop hooks are in full effect on such tracks as "Wasted and Ready," and the piano-powered "In Other Words." Acclaimed by the Boston Herald as "a young, singing-songwriting wunderkind," the Brooklyn-based Kweller has spent the past few years winning over hearts with his eclectic, irresistible solo sets. Now, with SHA SHA, BK is set to spread his sound from coast to coast and beyond.
Growing up in a musical household, in the small town of Greenville, TX, BK embraced the piano as soon as he was tall enough to reach the keys. "Someone taught me how to play 'Heart and Soul,'" Kweller says, "and I saw the chord pattern and thought 'Ok, what if I play the first key, skip the second one, go straight to the third then back to the second key, and then the fourth one, like 1-3-2-4 instead of 1-2-3-4? I did it and it sounded completely different than 'Heart and Soul'! After that, I started writing words modeled after the girls and love in Beatles songs my parents would blast through their stereo. I was seven years old and hardly knew what a girl was but figured this is what you sing about when you write songs!"
For BK's 12th birthday he received his first electric guitar and in 1993, formed the three-piece punk group "Radish". Radish soon became local favorites in the Dallas music scene and recorded an EP and LP in 1994. By 1996, the music industry took notice and the band signed a much-publicized major-label deal. After releasing one album, touring the world, scoring a top 40 hit in the U.K and even getting to have lunch with Brian Wilson, the youthful combo decided to part ways in 1999. Shortly after the break up, BK moved to Brooklyn, New York to embark on a solo career.
In his apartment on Smith St. he started penning song after song, taking inspiration from NYC's anti-folk scene, but adding his own puckish pop spin. He soon began booking solo gigs opening for folks like Evan Dando, Juliana Hatfield, Moldy Peaches, and Jeff Tweedy - like-minded artists who saw a similar spirit in Kweller.
"It was a huge accomplishment," he beams. "I was online one night, I got off and there's this message, 'Hey Ben, this is Evan Dando, I got a copy of your record from Juliana and I love it, I can't stop playing it.' That right there meant more to me than some huge record deal or any of the bullshit I went through when I was 15. Things were happening naturally now. Friends were giving friends my tape, and as a result Evan, one of my heroes, is calling my house!"
BK blossomed in Brooklyn and more solo acoustic shows, supporting the likes of Creeper Lagoon, Eels, and Dashboard Confessional, saw him veering between battered guitar and piano, reveling in his autonomous freedom. In 2000, BK self-released FREAK OUT, IT'S BEN KWELLER, an organic introduction to his new sound, highlighted by the Vanilla Ice parody, "BK Baby." He followed that collection in late 2001 with his 5-track ATO Records debut, E.P. PHONE HOME, which features a handful of bedroom recordings and SHA SHA demos.
Finally, BK is ready to unleash his full-length solo debut. Throughout SHA SHA, BK shows off his mastery of classic songcraft. The album opening "How It Should Be (Sha Sha)" - featuring backing vox from the Moldy Peaches' Kimya Dawson - demonstrates the profound and lasting influence of the Velvets' "I'm Sticking With You," while "No Reason" and "Harriet's Got A Song" are the best pop tunes Stephen Malkmus never wrote. A lifelong fan of an old-fashioned sing-along, Kweller truly digs the value of a well-placed "ba-ba-ba" hook - see the magical "Falling" for proof.
Recorded in NYC during the summer of 2001 with producer Stephen Harris (U2, Dave Matthews Band), SHA SHA sees BK backed by, among others, bassist Josh Lattanzi and old friend and drummer from Radish, John Kent. The album pops with the same infectious energy of BK's acoustic performances and home recordings, though fleshed out to feature a more fully realized sonic approach. He has since released four albums on the ATO label.
While many modern artists are all too ready to box themselves in, BK's musical and lyrical focus is refreshingly kaleidoscopic. From the front porch wistfulness of the country-tinged "Family Tree," to the hints of pagan mythology that inform "Make It Up," to the numerous junk culture references that permeate the entire album, Ben Kweller seemingly knows no boundaries.
Videos
---
Related Speakers View all
---
Chris Mann

Singer-Songwriter & Finalist on NBC's "The Voice"

Sam Tsui

Musician & Internet Celebrity Who Rose to Fame on Yo...

Stephan Jenkins

Lead singer, Third Eye Blind

Lisa Loeb

Grammy-nominated Singer and Songwriter

Rozzi Crane

Singer-Songwriter; Signed to Adam Levine's Label 222...

Regina Spektor

American Singer-Songwriter and Pianist

Mike Posner

Singer-Songwriter and Music Producer; Best Known for...

Judy Gold

Emmy Award-Winning Actress, Comedian & Producer; Jew...

Pat Monahan

Singer, Songwriter, Lead Singer of Train

Josh Peck

Actor & Social Media Influencer

Alan Arkin

Actor and Director; Known for "Argo" and "Little Mis...

Carly Rose Sonenclar

Indie-Rock Singer-Songwriter Known for Finishing Sec...

Ani Difranco

Singer, Songwriter, Feminist Icon

Zoe Kravitz

Actress and singer

Drake

Canadian Actor, Rapper & Singer Known for "One Dance...

Pink

Singer-Songwriter, Actress, Philanthropist & Environ...

Bob Dylan

Legendary Singer-Songwriter and Entertainer; Known f...

Randy Newman

Singer-Songwriter, Arranger & Composer Known for Sco...

Ben Harper

Grammy Award-winning Singer & Songwriter

Adam Lambert

Singer-Songwriter and Stage Actor; Contestant on "Am...
More like Ben