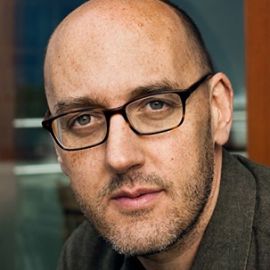 Ben Marcus is an acclaimed writer and novelist, He is the author of four books of fiction, and his stories, essays, and reviews have appeared in publications including Harper's, The New Yorker, The Paris Review, Granta, The New York Times, GQ, Salon, McSweeney's, Time, and Conjunctions. He is also the fiction editor of The American Reader.
One of the rising stars of American letters, Ben Marcus has become known for his wildly imaginative, often experimental, and deeply psychological novels and short stories. His highly lauded 2012 novel The Flame Alphabet follows the lives of Sam and Claire as they try to escape from a world in which children's speech—even that of their own loving daughter—has become lethal. His second novel, Notable American Women, is told primarily by a narrator who shares the author's name, and whose father asks, "How can one word from Ben Marcus's rotten, filthy heart be trusted?" His first collection of stories, Leaving the Sea, was released by Knopf in 2014.
Marcus's writing has been widely acclaimed by critics and writers alike—he's the recipient of three Pushcart Prizes, a Whiting Writers Award, a grant from the National Endowment for the Arts, and the Morton Dauwen Zabel Award from the American Academy of Arts and Letters. He was also awarded a fiction fellowship from Brown University, where he taught for several years before joining the faculty at Columbia, where he currently teaches. His stories and essays have appeared in Harper's, the New Yorker, the Paris Review, the Believer, the New York Times, Salon, McSweeney's, the Village Voice, BOMB, Poetry, and Time Magazine. He is the editor of the Anchor Book of New American Short Stories, and for several years was the fiction editor of Fence.
Videos
---
Speech Topics
---
The Future of the Short Story
An Evening with Ben Marcus