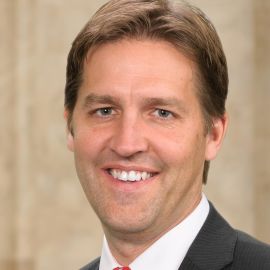 Ben Sasse is a United States Senator, representing the great state of Nebraska. His committee assignments in the Senate include the Judiciary, Intelligence, Joint Economic, and Banking, Housing, and Urban Affairs committees.
He was elected in a 2014 landslide, winning each of Nebraska's 93 counties, and securing the second-largest margin for a new senator in the history of the state. Living off of a rickety old campaign bus, he and his family campaigned tirelessly on a common-sense platform of restoring the Constitution to its rightful place and encouraging a more constructive politics where every public official works to make the American Dream achievable for every family. He believes in term limits and a humbler Washington, where the federal government does fewer things, but the more important things, more urgently, more transparently, and with less partisan screaming. A fifth-generation Nebraskan, Ben grew up walking beans and detasseling corn, experiences that taught him the value of hard work. A graduate of Fremont High School, he was recruited to wrestle at Harvard and then earned a PhD in American history at Yale.
Ben comes to the Senate having spent the last five years as a college president. When he was recruited to take over the failing Midland University, Ben was just 37 years old, making him one of the youngest college presidents in the nation. The 130-year-old Lutheran college was on the verge of bankruptcy when he arrived, but became one of the fastest-growing higher education institutions in the country by the time of his departure.
Most of his career has been spent guiding companies and institutions through times of crisis with straight talk about the core issues. He has worked with the Boston Consulting Group and McKinsey and Company, as well as private equity firms and not-for-profit organizations, to tackle failing strategies across a broad array of sectors and nations.
Videos
---
Speech Topics
---
Why Politicians and Lobbyists Can't Heal Healthcare
An Introduction to Health Reform: Why Is This So Hard?
The Future of Employer-Sponsored Insurance: How To Create Truly Portable Health Insurance for the Knowledge Economy
Health IT: The Promise, the Perils, and the Politics of Higher-Quality, Lower-Cost Care
Comparative Effectiveness: How Do We Provide Higher-Value Care Without Hamstringing Innovation?
The Entitlement Crisis Is Worse Than You Think - And What We Can Do
Demographics: Will the Baby Boomers' Retirement Bankrupt Us?
Faster Approvals, Less Secrecy, More Data: The Food & Drug Administration We Need
Government Reform: Bureaucracies Are Forever: Why Government Reform Always Fails
The Coming Food Safety Crisis: The Problem of 19th Century Regulation for 21st Century Supply Chains
The History of the Culture Wars: How the 1960s Still Shape Our Politics
Religion and Politics: How the Cold War Gave Us the Secular Left and the Religious Right