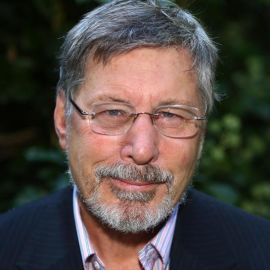 Bessel van der Kolk
Psychiatrist & Expert in PTSD
Bessel A. van der Kolk M.D. is a pioneer clinician, researcher and teacher in the area of posttraumatic stress. His work uniquely integrates developmental, neurobiological, psychodynamic, somatic and interpersonal aspects of the impact of trauma and its treatment.
His #1 New York Times Science best seller, The Body Keeps the Score: Brain, Mind, and Body in the Treatment of Trauma transforms our understanding of traumatic stress, revealing how it literally rearranges the brain's wiring—specifically areas dedicated to pleasure, engagement, control, and trust. He shows how these areas can be reactivated through innovative treatments including body work, psychodrama, mindfulness techniques, parts work, yoga, and neurofeedback, Dr. van der Kolk and his various collaborators have published extensively on the impact of trauma on development, such as dissociative problems, borderline personality and self-mutilation, cognitive development, memory, and the psychobiology of trauma. He has published over 150 peer reviewed scientific articles on such diverse topics as neuroimaging, self-injury, memory, neurofeedback, Developmental Trauma, yoga, theater and EMDR.
He is founder of the Trauma Center (now the Trauma Research Foundation) in Boston, MA; past President of the International Society for Traumatic Stress Studies, and Professor of Psychiatry at Boston University Medical School. He regularly teaches at universities and hospitals around the world.
Videos
---
Related Speakers View all
---
Martina McCullough

PTSD Advocate & Founder of the "Don't ask. Don't sen...

Clint Malarchuk

Former NHL Goalie, NHL Coach, Suicide Survivor & Men...

Bruce D. Perry

Psychiatrist and Author; Senior Fellow of the ChildT...

Dr. Kristen Lee

Award-Winning Behavioral Science Expert & Clinician;...

Dr. Christian Conte

Nationally Acclaimed Mental Health Specialist

Peter Levine

Developer of Somatic Experiencing, Received Lifetime...

Anthony Rao

Nationally Recognized Child Psychologist & Author of...

John Mabry

Actor, Amputee, Addiction & Mental Health Advocate

Chandra Ghosh Ippen

Associate Director & Dissemination Director of the C...

Silouan Green

Former US Marine, PTSD Activist, Founder of Everon LLC

Helen M. Farrell

Award-Winning Harvard Psychiatrist, TEDx Speaker & W...

Andrea Paquette

Mental Health Advocate, Founder & President of the S...

Eleanor Longden

Mental Health Advocate & Speaker; Postdoctoral Servi...

Paula P. Schnurr, PhD

Executive Director of the VA National Center for PTSD

Rebecca Brachman

Neurocientist & Entrepreneur, Pioneering the Field o...

Ginger Zee

Chief Meteorologist for ABC News, Author & Mental He...

Mike Veny

Mental Health Speaker & Drumming Workshop Facilitator

Dr. Janet Taylor

Self Care & Wellness Activist and Psychiatrist

Kim Gorgens

Neuropsychologist Who Studies Injured Brains, Aging ...

Dr. Darlene Mininni

Author, Behavioral Health Specialist and Consultant ...
More like Bessel