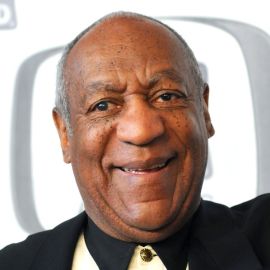 One of America's most beloved comedians of all time, Bill Cosby has captivated generations of fans with his comedy routines, iconic albums and best-selling books such as Fatherhood. His comedy transcends age, gender and cultural barriers.
Cosby broke television's racial barrier with I Spy, becoming the first African American to costar on a television series while winning three consecutive Emmys. He created and produced the Emmy-winning cartoon Fat Albert and the Cosby Kids, which began airing in the 1970s and was made into a film in 2004. The show, based on Cosby's childhood in Philadelphia, was designed to educate and entertain.
The former Navy serviceman's illustrious list of accomplishments includes roles on the children's educational show Electric Company and creating and producing the Emmy Award-winning Little Bill, which is based on his best-selling book series.
Perhaps Cosby's greatest contribution to American entertainment and culture is The Cosby Show, about a close-knit, upper class black family. Cosby said his intent was to portray an American family. Time magazine called the show "an encouraging sign of maturity in matters of race." The Cosby Show dominated the #1 spot for years, earning nearly unanimous critical praise. Life magazine described the program as "a gentle, whimsical, warmhearted" show whose "delicious ordinariness of its pleasures and tribulations has given millions a fresh, laughter-splashed perspective on their own domestic lives."
Bill Cosby's current bestseller, I Didn't Ask to Be Born, But I'm Glad I Was. Cosby talks about the Bible, being a grandfather and his first love in his humorous and insightful manner.
Cosby has received the Kennedy Center Honors, the Presidential Medal of Freedom (America's highest civilian honor), the Mark Twain Prize for American Humor and the Marian Anderson Award.
Cosby's been busy raising a family, too. He married the former Camille Hanks on January 25, 1964, while she was still a student at the University of Maryland. They raised four daughters (Erika, Erinn, Ensa and Evin) and one son (Ennis) and now have three grandchildren. The family resides in New England.
Videos
---
Books
---
Related Speakers View all
---
Hill Harper

Actor, Author & Philanthropist; Best Known For "CSI:...

Whoopi Goldberg

Award-Winning Actress, Comedian & Co-Host of ABC's "...

Montel Williams

Emmy Award-Winning Talk Show Host Best Known For "Th...

Ice-T

Rapper, Record Producer, Actor Known for "Law & Orde...

Spike Lee

Academy Award-Winning Writer, Producer, Actor & Dire...

Tavis Smiley

Broadcaster, Author, Publisher, Advocate, and Philan...

LeVar Burton

Literacy Advocate & Actor Known for "Roots," " Star ...

Wes Moore

CEO of Robin Hood Foundation, Best-Selling Author & ...

Phylicia Rashad

Advocate for Children, Women's Issues & Fine Arts; A...

Judge Greg Mathis

Civil Rights Activist, Television Personality

Louis Gossett Jr.

Oscar-Winning Actor, Founder of the Eracism Foundation

Ed Gordon

Emmy Award-Winning Broadcaster

Geoffrey Canada

Inner-City Youth & Education Advocate

Bertice Berry

Sociologist, Author and Educator

Jurnee Smollett

Actress & Singer

Fonzworth Bentley

Musician, Author and TV personality; MTV's "From G's...

John Legend

EGOT Winning Musician, Producer & Philantropist

Tony Plana

Actor & Director Known for "Ugly Betty;" Supporter o...

Kweisi Mfume

Political & Business Leader

Charles S. Dutton

Actor & Director Known for "Roc" and "The Piano Lesson"
More like Bill