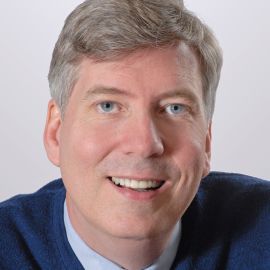 Bill Dedman
Pulitzer Prize-Winning Investigative Reporter for NBC News; Co-Author, "Empty Mansions: The Mysterious Life of Huguette Clark and the Spending of a Great American Fortune"
Investigative reporter Bill Dedman of NBC News is always looking for good story ideas and documents.
Bill uncovered the mystery of the reclusive heiress Huguette Clark, writing a series of reports for NBC News. His nonfiction book on the Clark family, co-written with Huguette's cousin Paul Clark Newell, Jr., published in September 2013 by Ballantine Books, is called "Empty Mansions: The Mysterious Life of Huguette Clark and the Spending of a Great American Fortune."
He has written for NBCNews.com about uninspected bridges, problems with firefighter safety equipment, the Obama administration's visitor logs, treatment of detainees at Guantanamo, strategies for discouraging school shootings, and journalists making campaign contributions.
Bill received the 1989 Pulitzer Prize in investigative reporting for "The Color of Money," articles in The Atlanta Journal-Constitution on racial discrimination by mortgage lenders in middle-income neighborhoods. In 2008, he received a national award for investigative reporting from the Society of Professional Journalists for his articles and video on firefighter deaths. In 2011 he received a Best in Business award for investigative reporting from the Society of American Business Editors and Writers for his narrative on Huguette Clark and her family.
Bill got his start in journalism at 16 as a copy boy at The Chattanooga Times. He has written for The Boston Globe, The Washington Post and The New York Times, and was the first director of computer-assisted reporting for The Associated Press. Dedman taught advanced reporting part time at the University of Maryland, Northwestern University, and Boston University, and created the Power Reporting site of research tools for journalists.
Videos
---
Related Speakers View all
---
Jeffrey Kluger

Journalist; Editor and Writer at TIME MAGAZINE. Auth...

Michael Rogers

MSNBC's 'The Practical Futurist' & Technology Expert

Sam Quinones

Journalist & Author of "Dreamland: The True Tale of ...

Lois Lowry

Newbery Medal-Winning Author of "Number the Stars" a...

Ryan Grim

Ryan Grim / Washington Bureau Chief at The Huffingto...

Jodi Kantor

Pulitzer-Prize Winning Journalist & Author

Mark Seal

Author, Contributing Editor, Vanity Fair

John Heilemann

Co-Host, "With All Due Respect;" Managing Editor, Bl...

Amy Waldman

Journalist, Author, "The Submission"

Calvin Trillin

Author, Columnist, Humorist & Political Satirist

Herbie J Pilato

Author / Producer / Consultant

Sebastian Faulks

Novelist, Journalist, and Broadcaster

Benjamin Percy

Acclaimed Novelist & Story Writer Author of The Dead...

Jason Mattera

Emmy-Nominated Journalist, Conservative Activist & A...

Gail Collins

Author & Editorial Writer; First Female Editor of th...

Howie Carr

Journalist, Author & Conservative Radio Talk-Show Host

Evan Thomas

Best-selling Author, Historian & Journalist

Geoff Colvin

Editor & Columnist at Fortune Magazine; Author of "H...

HG Bissinger

Honored and Distinguished Writer

Dan Abrams

Chief Legal Affairs Anchor at ABC News & Founder of ...
More like Bill