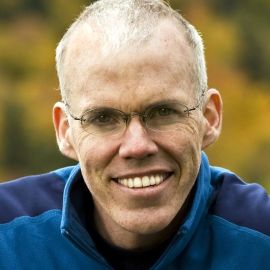 Of all the challenges the planet faces, none is as large as its fast-heating climate—and no one has worked longer or harder than Bill McKibben both to document and fight that ever-growing crisis. The author of the first book about global warming—1989's The End of Nature—McKibben went on to found 350.org, which has become the biggest grassroots climate campaign in the world.
Bill McKibben is an author and environmentalist who in 2014 was awarded the Right Livelihood Prize, sometimes called the "alternative Nobel." His book The End of Nature (approaching 30 years in print) is regarded as the first book for a general audience about climate change, and has been translated into 24 languages. TIME Magazine has called him "perhaps the planet's best green journalist," and he's lectured and organized on every continent, including Antarctica. His forthcoming book—Falter: Has the Human Game Begun to Play Itself Out?—offers a piercing look not only at our environmental challenges, but at the existential questions that come with new technologies like artificial intelligence.
Related Speakers View all
---
Richard Florida

Renowned Economist & Author of "The Rise of the Crea...

Van Jones

CNN Contributor; Best-Selling Author; Human Rights, ...

Parag Khanna

The World's Leading Geo-Strategist; Author of Second...

Amory Lovins

Co-Founder and Chief Scientist of Rocky Mountain Ins...

Sylvia Earle

Oceanographer, National Geographic Explorer-In-Resid...

Stewart Brand

Author, Futurist, Activist & Visionary

Jason Clay

Senior Vice President, Food & Markets at WWF

Jonathan Haidt

Psychologist, Widely Considered Expert in Psychology...

Carl Pope

Senior Adviser to UN Envoy for Cities and Climate; F...

Tiffany Shlain

Emmy-Nominated Filmmaker & Founder of the Webby Awards

Dr. Michio Kaku

World-Renowned Futurist & Theoretical Physicist

Daniel Goleman

Internationally Recognized Psychologist & New York T...

Louie Psihoyos

Photographer & Documentary Film Director; Known for ...

Graham Hill

Founder of Life Edited & TreeHugger.com

Eric Schmidt

Former Executive Chairman at Alphabet Inc, Former CE...

Majora Carter

Urban Revitalization Strategist, Named one of "100 M...

Sir Ken Robinson

Internationally Acclaimed Expert on Creativity and I...

Ray Kurzweil

Chairman of Kurzweil Technologies; Inventor; Futurist

Peter Diamandis

Chairman and CEO, X PRIZE Foundation; Author

Fabien Cousteau

Deep Ocean Explorer and Environmentally-Conscious Bu...
More like Bill