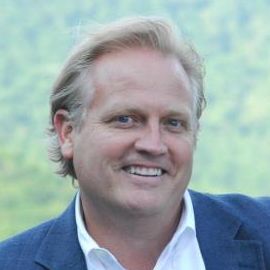 Bill Treasurer
Bill Treasurer is the Founder and Chief Encouragement Officer at Giant Leap Consulting, Inc.
Bill Treasurer is the Founder and Chief Encourager at a courage-building company that exists to help people and organizations live more courageously. He is the author of Right Risk (Berrett-Koehler, 2003), a book about personal courage that is based on Treasurer's experiences as both an organizational development professional and as a daredevil athlete. The book is such a success that it has been published in four languages, and currently holds a 4.5 star rating (out of 5) on Amazon.com.
Bill Treasurer is the editor of POSITIVELY M.A.D. (Making a Difference), published in 2004. The book is a compilation of stories from world-renowned experts, aiming to inspire readers to make a difference in their organizations.
Bill's insights have been featured in over 100 newspapers, including The Washington Post, The NY Daily News, The Chicago Tribune, Atlanta Journal Constitution, Boston Herald, and Investor's Business Daily. His articles have also appeared in such magazines as Woman's Day, Business-to Business, Redbook, Fitness, and The Harvard Management Update.
Treasurer is a former member of the U.S. High Diving Team. For seven years he traveled throughout the world performing with a team of high performing athletes. During that time, Bill did over 1,500 high dives from heights that scaled over 100 feet.
Since 1991, Bill Treasurer has conducted over 500 corporate workshops designed to strengthen people's leadership skills, improve team performance, accelerate innovation, and help executives behave more courageously. He holds an MS degree in Administrative Science from the University of Wisconsin, and his 4.0 average resulted in his being a member of the National Deans List. He attended West Virginia University on a full athletic scholarship for springboard diving.
Speech Topics
---
Courageous Future: How Strategic Planning Can Align Your Organization and Drive Success
Few things have the potential to galvanize an organization as much as a bold future. Setting a strong strategic direction for your organization is critical. Even your department and project teams will benefit from focused planning. Unfortunately, people think that strategic planning expertise is solely the domain of highly specialized, external consultants who have to bring their special brand of mojo. Fortunately, there are tools and frameworks that are easy to use and follow and do not require multiple PhDs to decipher.
This workshop draws on the concepts that have been used to create strategic plans at major universities such as MIT, UC Berkeley, USC, Michigan State, Purdue, NC State, and many others. The concepts have also been used for profit and non-profit entities such as Equity Office Properties, Aldridge Electric Incorporated, and the Georgia Center for Child Advocacy.
The relation of the planning process to organizational alignment

Intuitive framework for guiding the strategic planning process

Techniques to prepare your organization for a planning process

Techniques for including diverse stakeholder voices during the planning process

Facilitation process tips for success during and after the strategic planning effort

Strategic planning mistakes to avoid
Meaningful Mentoring: Promoting Growth Through Positive Influence
Having a positive mentor is one of the most effective ways of ensuring career growth and development. Most leaders you admire, for example, credit their career development to having a positive mentor. People such as Warren Buffett, Jim Collins, Dave Thomas, and Condoleezza Rice all credit their success to having a positive mentor. This workshop draws on the experiences of people like this to provide useful tips for getting the most out of a mentoring relationship.
The Meaningful Mentoring workshop will focus on helping you create a healthy and fulfilling mentoring relationship. Participants will come away with practical strategies for structuring the mentor/mentee relationship, defining each person's responsibilities in the relationship, and ensuring that mentor/mentee meeting time is used wisely.
The impact of mentoring on famous people you admire

What to look for in a great mentor

Five ways that mentors can promote mentee growth and development through positive influence

The importance of discomfort as a vehicle for mentee growth

Tips for strengthening the mentor / mentee relationship
Leaders Open Doors: A Radically Simple Leadership Approach to Lift People, Profits, and Peformance
The study of leadership development has grown to be very complicated. We often get stuck thinking about leadership in terms of matrices and competencies and modules. The simple truth is that to be a leader is to open doors of opportunity for others. To be most effective, leaders need to be opportunity-creators. Drawing on the concepts introduced in the new book, Leaders Open Doors, leadership expert Bill Treasurer shows how leaders help people and organizations grow by creating meaningful learning opportunities.
Open Door Leaders focus on aligning the needs of the organization with the career aspirations of those they lead. People and organizations grow and develop when they intentionally pursue goals and challenges that stretch their skills and test their mettle.
Why opening doors of opportunities for people is the most essential job of a leader

How opportunity attracts, inspires, and develops workers

What it means to be an Open Door Leader

How to modulate between comfort and discomfort in order to promote career growth and development

Six distinct opportunity doors leaders can open for others
Courageous Leadership
People have high and often conflicting expectations of leaders. Be reasonable but passionate. Decisive but inclusive. Visionary but explicit. Powerful but humble. Add to that emotionally intelligent, caring, impartial, people-oriented, and of course, profit-driven. The list is so long that it often leaves leaders scratching their heads, thinking: where on earth do I start?
The answer is courage. It's the backbone leaders need to step up to the plate, face fierce challenges, inspire others, and drive the bottom line. Important organizational concepts like leadership, innovation, change management, and sales, all require strong doses of courage to be effective. Drawing on the courage-building practices that have been taught to thousands of employees across the globe, this keynote will help participants be more personally courageous, and help them inspire more courageous behavior among those they lead.
Why courage is essential to career and organizational success

Current data about the debilitating impacts of fear on performance

Three specific types of courage

The differences between two different leadership dispositions, Fillers (encouragement) and Spillers (discouragement)

Tips on how leaders can be more courageous at work, and how they can inspire more courageous behavior among those they lead
Courageous Leadership for Women
Though long overdue, women are increasingly moving into leadership roles. Consequently, women have more opportunities to shape the workplace in a meaningful way. Making the most of those opportunities will take persistence, persuasiveness, and leadership. It will also take courage. This keynote highlights courage as the most important leadership virtue, and provide strategies that women can apply in workplace settings to broaden their leadership influence. Specific examples about courageous women leaders will be used to illustrate the workshop concepts.
Understand specific challenges that are unique to women in the workplace

Review the critical role of courage plays in being an effective leaders

Learn about three distinct types of workplace courage, and how women can use them

Gain insight from the case examples of courageous working women

Learn specific tips that women can use to be more personally courageous, and inspire more courageous behavior among those they lead
Leadership for Maximum Impact: Strategies for Supercharging Your Leadership Development Program
Lots of organizations do leadership development. Some do it well, some not-so-well. But even those who do it well often fall short of the full impact that the program could potentially have. Some organizations fall short by outsourcing leadership development to outside providers who impose their own narrow leadership template. Others fall short by delivering tired content and retread ideas. The key is to build a program that fits your organization's culture and honors its history, while leveraging best leadership practices from inside and outside your organization.
This workshop will draw on the case study of a $4.5 billion dollar construction company that supercharged its leadership development efforts and, as a result, grew while nearly all of its competitors were shrinking during the Great Recession. The workshop will be co-led by Bill Treasurer, chief encouragement officer (CEO) of Giant Leap Consulting and author of Leaders Open Doors, and Craig Atkinson, director of career development for Walsh Construction. Bill and Craig designed, developed, and continue to deliver the Walsh Group Leadership Initiative, an 18-month high-potential leadership development program.
key questions to ask that will help you improve your program's impact,

typical and atypical metrics (tangible and intangible) to gauge a program's impact and ROI,

approaches for "de-boringizing" your program to keep it from being 'me too' or 'ho-hum',

ways of getting the most out of mentoring as part of your leadership development program,

dual coaching for doubling the impact of executive coaching, and

specific program features to supercharge your leadership program's impact
Related Speakers View all
---
Jones Loflin

Internationally-Recognized Author & Speaker on Chang...

Ross Bernstein

Inspirational Speaker; Bestselling Sports Author

Chuck Carmen

Chuck Carmen, MBA, CAE, has been called an enigma in...

Jeff Tobe

Customer Experience Expert

Benjamin Zander

Conductor of the Boston Philharmonic Orchestra; Cele...

Steve Sax

Five-Time MLB All-Star & Mental Health Advocate

Howard Putnam

Former CEO of Southwest Airlines

Vince Poscente

Former Olympic Speed Skier, Best-Selling Author, Lea...

Mark Fournier

3-Time EMMY Award-winner; Founder of Ucoach Universi...

Tom Flick

Former Pro Athlete & Leadership Expert

Ariane de Bonvoisin

Founder and CEO of First30Days.com & Author, "The Fi...

John Amatt

Mountaineer, Founder & President of One Step Beyond ...

Adrienne Fikes, M.Ed., C.S.C.

Book Adrienne, the Soul Power Coachâ"¢ and creator o...

Jeremy Kingsley

Best-Selling Author, Leadership Expert & President o...

Michael J. Rhodes

Award-Winning Author of The Freedom Code: Simple Sol...

Jose Feliciano, Jr.

Jose Feliciano has been achieving the impossible for...

Mike Jaffe

9/11 Survivor; Human WakeUp Call

Neil Ihde

Founder of Life IQ and Type IQ Consulting, Keynote S...

James D. Feldman, CSP, CITE, CPIM, CPT

Jim is a Innovation and Meaningful Memories Customer...

Peter Sims

Entrepreneur & Best-selling Author; Known for "Littl...
More like Bill