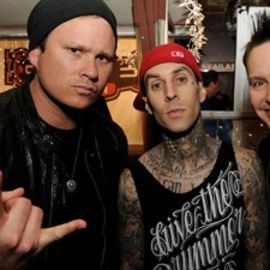 Blink-182 is an American rock band formed in Poway, a suburb of San Diego, California in 1992. The trio consists of bassist and vocalist Mark Hoppus, guitarist and vocalist Tom DeLonge and drummer Travis Barker. The band is considered a key group in the development of pop punk music; their combination of pop melodies with fast-paced punk rock featured a more radio-friendly accessibility than prior bands. The group, with original drummer Scott Raynor, emerged from the Southern California punk scene of the early 1990s and first gained notoriety for high-energy live shows and irreverent lyrical toilet humor.
The band were initially known as Blink until Irish band Blink threatened legal action; they appended "-182" for no reason. Cheshire Cat led the band to tour with Pennywise and NOFX on the Warped Tour. Dude Ranch was co-distributed by major label MCA Records and featured their first rock radio hit, "Dammit." Raynor was fired midway through a 1998 tour and replaced by Barker. Enema of the State was an enormous success on the strength of hit singles "What's My Age Again?," "Adam's Song" and "All the Small Things," which enjoyed massive airplay and became MTV staples. Take Off Your Pants and Jacket reached No. 1 in the United States, Canada and Germany. The eponymously-titled Blink-182 followed in 2003 and marked a stylistic shift for the group, infusing experimental elements into their usual pop punk formula, resulting in a more mature sound. DeLonge left the group in 2005, sending the band into what was termed an "indefinite hiatus." The trio reunited in 2009 and their sixth studio album, Neighborhoods, was released in 2011.
Blink-182 has sold over 35 million albums worldwide. In 2011, The New York Times asserted that "no punk band of the 1990s has been more influential than Blink-182," stating that even as the band receded after their 2005 split, "its sound and style could be heard in the muscular pop punk of Fall Out Boy or in the current wave of high-gloss Warped Tour punk bands, like All Time Low and The Maine."
Videos
---