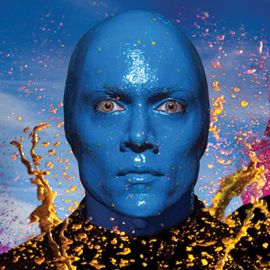 Blue Man Group is a creative organization dedicated to creating exciting and innovative work in a wide variety of media.
Blue Man Group is best known for their wildly popular theatrical shows and concerts which combine music, comedy and multimedia theatrics to produce a totally unique form of entertainment. The blissful party atmosphere created at their live events has become the trademark of a Blue Man Group experience.
Some of the biggest challenges faced by corporations today include finding new ways to foster innovation, improve communication and enhance collaboration & teamwork. In their own unique way, the Blue Men explore these themes nightly. With Blue Man Group's creative, non-verbal approach, audience members experience first-hand how cooperation, teamwork and communication can result in an unforgettable experience not only for the Blue Men but for everyone involved!
Blue Man Group has applied its unique creative process to a wide variety of projects, including the recording of three albums; the Grammy nominated Audio and The Complex, which became the musical basis for The Complex Rock Tour and more recently, the How To Be a Megastar Tour 2.0 which is currently touring 105 U.S. cities, and Live At The Venetian ® ­- Las Vegas. Blue Man Group has also ventured into toy development (with their Keyboard Experience and Percussion Tubes), film and TV scoring, commercial campaigns, television programs (Scrubs and Arrested Development), and a children's museum exhibit, Making Waves, which is currently touring the country.
For years, corporate groups have been drawn to Blue Man's unique form of entertainment, which blends modern day Vaudevillian elements, comedy and music with science, art and technology. Exploring themes of community, collaboration & creativity, corporate groups have left our theatres over the years feeling connected and energized by their shared Blue Man experience
As the group grows, it remains true to its vision of providing exciting experiences in a variety of media, which appeal to a broad range of age groups and cultural backgrounds.
Videos
---
Speech Topics
---
Suggested Programs
The Creative Process (Presentation and Workshop)
Creative Brand Building Presentation
Blue Man Character Workshop
In-Theatre Events (Venetian, Las Vegas & Universal Orlando)