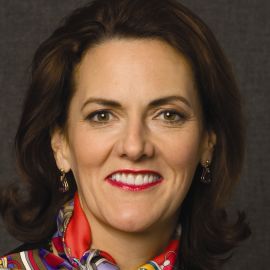 Blythe McGarvie
Board of Directors Member for Sonoco, Wawa, LKG Corporation & Member Board of Directors
Blythe J. McGarvie has operated profitable business units and managed employees in business endeavors from China to Chile, France to Finland. An accomplished author and business thought leader, she was also a pioneering CFO, and in 1995, was one of only ten female CFOs in the Fortune 500. Renowned for her perspective on leadership, consumer markets, and worldwide economic trends, she brings energy and enthusiasm to her speeches, giving her audiences courage to thrive in trying times and to achieve financial success.
Raising the Courage Quotient. McGarvies best-selling book, Shaking the Globe: Courageous Decision-Makers in a Changing World provides entrepreneurs and executives with research and action ideas to overcome obstacles in a competitive and interconnected world. In the book, she explains that western business leaders must develop the courage to enter new cultures not as people holding an attitude of cultural or moral superiority, but with a perspective of common interest and mutual success.
McGarvie is also the author of Fit In Stand Out: Mastering the FISO Factor: The Key to Leadership Effectiveness in Business and Life, which has reached wide distribution in the U.S. and was published outside the US in Spanish, Indian and Russian language versions. Booklist called it A fundamental guide to choosing a path in the maze of corporate culturefrom someone who has been there and done it.
McGarvie has been featured in numerous national and international publications and media, including Harvard Business Review, The New York Times, CFO magazine, Fast Company, MORE magazine and CNBC. In December 2007, MORE magazine featured her international acumen in Going Global, reaching over 500,000 readers. Her business insights are featured in the Corporate Leadership column in Shattered magazine and she was the Your Move columnist in CFO Europe. Consumer Goods Technologys cover story named McGarvie a World Class CFO and Business Finances featured McGarvie in a cover story titled Financial Reporting how the best CFOs get it right the first time.
Facing the Global Competition. Since January 2003, McGarvie has been CEO and founder of LIF Group, offering a global perspective for clients seeking profitable growth and providing leadership seminars for corporate and academic groups. She has a pulse on developing leaders and responding effectively to changing situations as a result of her extensive corporate experience and her service on several boards, including Accenture, Pepsi Bottling Group, The Travelers Companies, Viacom, and Wawa. In 2010, NACD/Directorship selected Ms. McGarvie as one of the Top 100 Most Renowned and Influentials in Corporate Governance. McGarvie was recently honored as one of the Most Influential People on Corporate Governance and in the Boardroom by Directorship, and in December 2009, she received an Honorary Doctorate in Humane Letters from Old Dominion University.
After eight years as a chief financial officer and numerous requests to share her insights, McGarvie wrote a book called Fit In, Stand Out, Mastering the FISO Factor for Success in Business and Life, published by McGraw-Hill in September 2005. From 1999 through December 2002, McGarvie was executive vice president and chief financial officer of BIC Group, a French company traded on the Paris Bourse and one of the world's leading manufacturers of convenient disposable products.
For five years prior to joining BIC, McGarvie was senior vice-president and chief financial officer of Hannaford Bros. Co., a U.S. $3 billion supermarket retailer, acquired by the DelHaize Group in 1999. Her international experience includes being based in Paris, France for BIC Group and as chief administrative officer-Pacific Rim of Sara Lee Corporation, based in Chicago, where she was responsible for the finance, strategy, information systems and human resources functions for the personal product business in Asia, Australia and South America, growing the division from $124 million to $600 million in sales over a three-year period ending in 1994.
McGarvie has been featured in numerous national and international publications, including The New York Times and CFO magazine.
Videos
---
Speech Topics
---
Global Citizenship: Succeeding in a New Culture.
Two-thirds of the world's purchasing power and 95% of the world's consumers reside outside US national borders. The top 25 US companies made 43% of their revenues abroad in 2004. Leaders must learn how to take advantage of this increasing globalization. Understanding the truth about American jobs and who are the business winners and losers will allow executives to navigate their careers and their company. Blythe McGarvie shows business leaders:
how to transcend your biases and prepare for the new world in order to keep their business growing and retain employees who will help guide them through new territory to profitable success;
strategies to develop transformational global leadership skills in order to grow their business and to establish beachheads for future growth opportunities;
how to stimulate coordination and cooperation across national borders in order to create a lasting and rewarding relationship with people who will grow their business as if it were their own.

Financial Acuity Matters
Finance is the language of business, in any industry. You can turn opportunity into strategic insight if you have financial acuity. Clearly, this is an under-developed skill given the financial scandals and disruptions of recent times. Keying into Google the phrase "financial scandals" yields 175,000 hits; the word "bankruptcies" yields 500,000 hits; and "accounting fraud" yields nearly 1 million hits. You must know what attributes define a company that will sustain profitable growth and be a great place to invest your time or your money. You must develop your own financial acuity even if your job is in marketing, operations, sales, or human resources if you want to thrive in business today. At this seminar, McGarvie describes:
the three steps for building your fluency in the language of finance in order to excel in your organization and help it meet its financial targets;
habits of financially acute leaders that drive organizational growth and profits;
how mastering this skill builds confidence and strategic insight to help you meet your personal objectives and grow your business.

Courageous Decision-Making.
Many Americans fear that the global economy will cost them their jobs and purchasing power and that, in turn, will force a reconsideration of American values. It is one thing to lose jobs to Indochina because employers located there can hire 14-year old children and women cheaply, provide no health care, avoid safe workplace standards, hire and fire at will, and face no liability for environmental depredation. Yet, it is another to consider a twenty-first century America that must scale back its labor practices and deregulate to make America competitive once again. These fears are based on legitimate concerns but McGarvie's goal is to lessen them and the reactionary protectionist policies they engender, by demonstrating that global business changes offers opportunities to Americans. At this seminar, McGarvie shows the six stops to connect the globe in a changing world; illustrates how business can redefine success in an interconnected world; and how to make better decisions by using untapped resources and fostering the entrepreneurial spirit in organizations of any size.
News
---
Blythe J. McGarvie | Virginia Lawyers Weekly
One of my mentors was Claudine Malone who served on the board of directors for Hannaford when I was the chief financial officer. She mentored me to understand the governance and strategic issues of a Fortune 500 company....