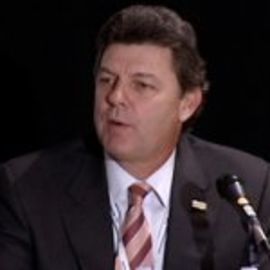 Mr. Bailey is the President of the Water Business Group for CH2M HILL. In this role, he has worldwide responsibility for the development, project performance, and risk management of all CH2M HILL water, wastewater and water resource projects. CH2M HILL's Water Business Group brings the firm nearly a billion dollars in revenue annually, employs approximately 2,500 people and completes more than 4,000 planning, design and construction projects each year.
Mr. Bailey also serves on CH2M HILL's Board of Directors.
Community/Professional Involvement Mr. Bailey has a B.S. in Civil Engineering from the University of Illinois. He is a graduate of Leadership Florida and has served on the Leadership Florida Board of Governors and the Florida Chamber of Commerce Board of Governors. He currently serves as a member of the Water Security Council and Water Initiative Steering Board of the World Economic Forum, the Water Environment Federation's Global Water Strategies Council, and the Board of Directors for the National Association of Corporate Directors (Florida Section). Mr. Bailey is also a Past President of the Florida Section of the American Water Works Association (AWWA).
Awards
Mr. Bailey is a recognized leader in the Water Industry, having received the AWWA National George Warren Fuller Award for Leadership and is an AWWA Life Member. Mr. Bailey is also a recipient of the Distinguished Alumni Award from the University of Illinois, Department of Civil and Environmental Engineering.
Videos
---