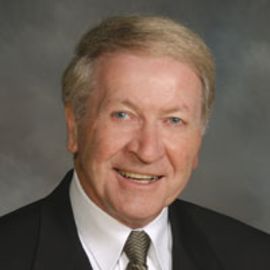 Bob Harlan
Bob Harlan, the Green Bay Packers' chairman emeritus, served 37 years with the organization, including 19 seasons as its principal executive.
After formally retiring January 28, 2008, he currently serves as a consultant to the organization. His daring vision and inspired leadership of the franchise set a lofty standard within the world of professional sports. The organization enjoyed tremendous success under his stewardship and is positioned to succeed well into the future.
Off the field, the crowning achievement of Harlan's tenure — the $295 million redevelopment of historic Lambeau Field — was ushered in at the beginning of 2003 and now stands as the chief component for assuring the team's financial survival for the next three decades. On the field, the Packers enjoyed resurgence under Harlan's guidance, owning the league's best overall record from 1993-2007, and returning the Lombardi Trophy to Green Bay with a victory in Super Bowl XXXI. This successful period also included 13 straight .500-or-better seasons (1992-2004), an impressive accomplishment in this era of free agency and the teams best stretch since the 1930s and '40s.
Convinced the organization was merely treading water competitively, he named Ron Wolf as executive vice president and general manager, with total authority over football operations. Wolf was chosen "NFL Executive of the Year" following his first full season with the Packers, which saw him hire ex-49ers offensive coordinator Mike Holmgren to replace Lindy Infante as head coach and acquire Pro Bowl quarterback Brett Favre in one of pro football's most acclaimed trades ever. Wolf subsequently "recruited" perennial Pro Bowl defensive end Reggie White, the game's most sought-after unrestricted free agent in 1993.
During the productive interim, which saw Favre and White provide the foundation for success, the Packers advanced to the playoffs for six consecutive years — the first such accomplishment in franchise history — climaxing their 1996 achievements by reaching and winning the Super Bowl for the first time in 29 years and following that singular achievement by returning to the Super Bowl in January 1998. In the seven-year interim and the multi-faceted process of implementing the team's long-term financial plan, Harlan had the satisfaction of seeing the redevelopment of Lambeau Field pay initial and substantial dividends as the additional sources of revenue spawned record years for club profits in the 2003, 2004 and 2005 fiscal years.
As an impressive result, the Packers rose to 10th place in revenue ranking among NFL teams during the 2003 fiscal year, their highest finish since 1997, a Super Bowl year, when they finished ninth. Recent fiscal performances saw the Packers remain near the top in NFL revenue rankings. For all his considerable contributions, Harlan fittingly was honored July 17, 2004, with his induction into the Green Bay Packers Hall of Fame. His mark on the franchise earlier was also recognized September 2, 2003, with the dedication of the Robert E. Harlan Plaza, in front of the main entrance to Lambeau Field. It is marked by a plaque featured between the statues of team founder Curly Lambeau and Hall of Fame coach Vince Lombardi.
The Wisconsin Historical Society celebrated the lifetime achievements of Bob Harlan, along with four other individuals with Wisconsin ties, during its third annual History Makers Gala in Milwaukee on May 14, 2008. Harlan was the recipient of Vincent Lombardi Award for Distinction in Sports.
Related Speakers View all
---
Frank Winters

Favre is scheduled to induct longtime teammate and f...

Ron Wolf

First, he watched his former team return to the top ...

Brett Favre

Former NFL Quarterback & Hall of Famer

Mark Chmura

Mark Chmura (born February 22, 1969 in Deerfield, Ma...

Chris Doering

Former NFL WR; ESPN; Westwood One

Antonio Pierce

Super Bowl Champion, New York Giants, ESPN Football ...

Ed Sabol

NFL Films grew out of a hobby for Ed Sabol.

Zeke Bratkowski

Bratkowski began his playing career at Schlarman Hig...

Ted Thompson

Ted Thompson just presided over his ninth draft as P...

Joe Philbin

Joe Philbin was named the tenth head coach in Miami ...

Mark Tauscher

Mark Tauscher is a former American football offensiv...

Ryan Grant

Ryan Brett Grant is an American football running bac...

Bryan Bulaga

AP Bryan Bulaga responds to questions during a news ...

Brett Swain

Ended the season with 13 catches covering 104 yards.

Chad Clifton

Football player NFL, offensive tackle for the Packer...

Jim Finks

At a Bears game in 1973, George S. Halas, Jr., son o...

Shaun Suisham

Since 2005 Wallaceburg Ontario's Shaun Suisham has m...

Larry Foote

He made his professional debut in 2002 while playing...

Hunter Goodwin

Former Tight End, Minnesota Vikings and Miami Dolphins

Aaron Taylor-Johnson

English actor, starring roles in Nowhere Boy, in whi...
More like Bob