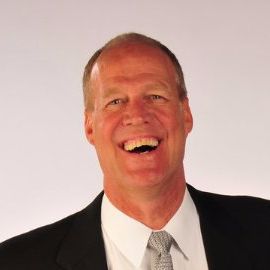 Bob Negen, founder of Mackinaw Kite Co., will bring a sense of fun and adventure to your audience. His "make it fun, but get it done" attitude has given Bob an expert edge, not only in marketing, but also in practical, proven customer service practices, solid, common sense employee management, super efficient operations and focusing the entrepreneurial spirit.
Bob discovered his entrepreneurial spirit at the age of twenty-three and opened one of the world's first kite stores. In a business where having fun was a job requirement, Bob demonstrated to the world that having fun has no age barrier. He helped change the public's perception of the kite from a child's toy to an "eco-friendly" hobby for families and people of all ages.
The Mackinaw Kite Co., a chain of specialty toy and kite stores, was founded in 1981. In only twenty years, Bob grew his company from $17,000 to over $3 million in annual sales. In 1998, the company was named "Retailer of the Year" by the Kite Trade Association.
A natural marketer, Bob constantly created many successful promotions. His favorite, The Great Lakes Sports Kite Championships, is one of the largest, most prestigious kite events in the world. It is held annually in Grand Haven, Michigan, where in 2005, it was held as a benefit for The Children's Leukemia Foundation.
Bob was also instrumental in helping create a nation wide yo-yo boom. He employed eight full-time yo-yo professionals to perform in schools, malls, nationally broad cast parades, professional sporting events and other large entertainment venues. His company opened over a dozen "Yo-Yo Universe" kiosks in shopping malls and hired and trained over one hundred fifty employees. Using his unique training system, he was able to sell over $2 million dollars worth of yo-yos in a little over six months.
His yo-yo adventure forced Bob to boil down twenty years of hard-earned experience about life as an entrepreneur into a fun, but no-nonsense, only-if-it-works outlook on business.
Bob will bring the same sense of fun and adventure to your audience that he brought to the toy business. In Bob you have a real business person whose knowledge, skill and passion come from the trenches of small business. His credibility and audience connection come from shared experience. When Bob tells an audience that something will work, it will. He speaks from experience.
Videos
---