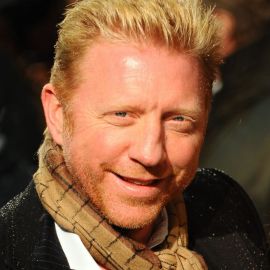 Boris Becker
Retired World No. 1 Tennis Player & International Tennis Hall of Famer; Olympic Gold Medalist & Professional Poker Player
Boris Franz Becker is a German former world No. 1 professional tennis player. He was successful from the start of his career, winning the first of his six major singles titles at age 17. He also won five year-end championships, 13 Masters Series titles and an Olympic gold medal in doubles. Tennis magazine ranked him the 11th best male player of the period 1965–2005.
Since he retired from the professional tour, media work and colorful aspects of his personal life have kept him in the headlines.
Boris Becker is the only son of an architect who built the center where he learned the game. As a youngster, he was often the weakest of the boys in the area's tennis program, and therefore often ended-up playing the strongest of the girls in the program who was usually another future star, Steffi Graff in training matches. Becker turned professional in 1984, and won his first professional doubles title that year in Munich.
The redheaded teenager took the sports world by storm in 1985. He won his first top-level singles title in June at Queen's Club and then, two weeks later, became the first unseeded player, the youngest-ever male, and the first German to win the Wimbledon singles title, defeating Kevin Curren in four sets. At the time he was the youngest-ever male Grand Slam singles champion at 17 years, 7 months (broken by Michael Chang who won the French Open when he was 17 years, 3 months). Two months after his triumph, Becker went on to also become the youngest winner of the Cincinnati Masters.
Becker's game was based on a huge serve that earned him the nicknames "Boom Boom" and "Baron von Slam". His penchant to throw himself at everything with diving volleys endeared him to the crowds. His heavy forehand and powerful return of serve were also very significant factors in his game.
In 1986, Becker successfully defended his Wimbledon title, defeating Ivan Lendl (world #1 at the time) in straight sets. Becker also helped West Germany win its first Davis Cup in 1988.
Becker reached the final of the Australian Open for the first time in his career in 1991, where he defeated Lendl to finally claim the World No. 1 ranking. He would be ranked No. 1 for several weeks during 1991, though he never managed to finish a year ranked as the World's No. 1 player. His sixth and final Grand Slam title came in 1996, when he defeated Michael Chang in the final of the Australian Open.
Becker and Stich teamed up in 1992 to win the men's doubles Gold Medal at the Olympic Games in Barcelona.
Over the course of his career, Becker won 49 singles titles and 15 doubles titles. Besides his six Grand Slam titles, he was also a singles winner in the year-end Masters championship in 1988, 1992, and 1995, and at the Grand Slam Cup in 1996. He won a record-equalling four singles titles at London's Queen's Club. In Davis Cup, his career win-loss record was 54-12, including a 38-3 in singles. He also won the other two major international team titles playing for Germany, the Hopman Cup (in 1995) and the World Team Cup (in 1989 and '98).
In 2003, he was inducted into the International Tennis Hall of Fame.
Becker now plays on the Senior ATP Tour and Billie Jean King's World Team Tennis tour. He remains a hugely popular figure at Wimbledon and commentates there for the BBC each year. Since 2000, Becker has been the principal owner of the tennis division of Völkl Inc, a tennis racquet and clothing manufacturer. Becker published his autobiography, *Augenblick, verweile doch... * in 2003. Becker is a noted poker player and has appeared in the European Poker Tour and the World Poker Tour; by 2013 he had won more than €90,000 in career earnings from poker.
Related Speakers View all
---
Roger Federer

Professional Tennis Player & Record Holder for Most ...

Pete Sampras

Retired World No. 1 Tennis Player & International Te...

Rafael Nadal

Professional Tennis Player; Ranked as One of the Wor...

Andy Murray

Renowned Tennis Player & Two-Time Olympic Gold Medalist

Steffi Graf

Retired World No. 1 Tennis Player & International Te...

Lindsay Davenport

Retired World No. 1 Tennis Player & International Te...

Venus Williams

Professional Tennis Player, Four-Time Olympic Gold M...

Mariel Zagunis

Mariel Zagunis is an American Olympic sabre fencer, ...

Mike Eruzione

Captain of the 1980 US Olympic Hockey Team & Subject...

Naomi Osaka

Professional Tennis Player

Jordan Fliegel

Founder, CoachUp; a service that connects athletes w...

Hank Haney

Professional Golf Instructor Known for Coaching Tige...

Mary Joe Fernandez

Former Professional Tennis Player; Tennis Analyst & ...

Serena Williams

Iconic Professional Tennis Player & Olympic Gold Med...

Shaun White

Professional Snowboarder and Skateboarder, Two-Time ...

Michael Phelps

Retired Professional Swimmer; Most Decorated Olympic...

Bode Miller

World Cup Alpine Ski Racer; Olympian & World Champion

Peyton Manning

Super Bowl-Winning Quarterback & Four-Time NFL MVP

Billie Jean King

Former World #1 Professional Tennis Player & Sports ...

Wayne Gretzky

Legendary Hockey Player & Founder of the Wayne Gretz...
More like Boris