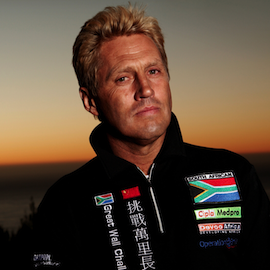 Braam Malherbe
Extreme Adventurer, Conservationist, Youth Developer & Author
International speaker, extreme adventurer, conservationist, youth developer and author. All these words could be used to describe Braam Malherbe, a man on a mission the save planet Earth. If you meet Braam in person however you will discover that he is an ordinary man that believes in doing EXTRA, for the causes that you care about most – this is what makes a human EXTRAordinary.
His adventures include running the entire length of the Great Wall of China, running the entire coastline of South Africa, doing a race against time to the South Pole in -45 Celsius temperatures, and in 2017 completing another world first: rowing unassisted for 92 days from Cape Town to Rio de Janeiro all in the name of the DOT Challenge, a movement he invented that challenges everyone to Do One Thing.
Considered to be "One of the top 3 athletes to ever come out of South Africa" by Prof Tim Noakes, Braam started to do public speaking when he realized his own adventures and personal journey could help others move from a life of success to a life of significance.
Braam's contagious positive energy is fed by his life-long passion to protect the environment and inspire change. Braam places great emphasis on the importance of leadership in society and how to move from a culture of blame and entitlement to one of personal growth. He shows how, by learning from nature, we can only evolve by embracing change.
Braam's adventures are extraordinary and always purpose driven. He is a riveting international motivational speaker, applying lessons learned from his experiences to talk about innovation and change, resilience, purpose, courage, leadership, teamwork, and making the impossible possible.
Details of Malherbe's impressive athletic feats follows:
In 1974, at age 17, Braam ran from Plettenberg Bay to Cape Town to raise funds and awareness regarding the potential destruction of species in the Langebaan Lagoon where construction was being planned. He succeeded in ensuring an Environmental Impact Assessment (EIA) was conducted to prevent certain marine species from potentially going extinct.
In 2006 Braam, together with a running partner David Grier, accomplishing a world first by running 4, 200 km along the entire length of the Great Wall of China in a single attempt. This translated into running an average of more than a full marathon a day for 98 days.
In 2008 Braam, achieved a second world-first by running the entire coastline of South Africa, a distance of over 3, 200 km, with running partner David Grier. These expeditions raised over R2.5 million for Operation Smile, providing corrective surgery for children born with cleft lip and cleft palate disfigurements.
In 2011 Braam, and his race partner Peter van Kets represented South Africa in an unassisted race against the clock to the South Pole, a distance of 888 km, which they covered in 24 days. They did this while man-hauling sleds weighing around 85 kg each, in a climate with high winds and an average temperature of -45° C. This expedition was to highlight the problems we face as a result of climate-change (of which Braam is an expert).
On 9 May 2017, Braam achieved his third world-first. Together with his rowing partner Wayne Robertson he rowed a 6.8m rowing boat 8 100kms from Cape Town to Rio de Janeiro in 92 days. The pair rowed in continuous two-hourly shifts, with one rowing while the other made water and food and tried to sleep. The journey was fraught with problems, such as being capsized four times, 40 foot breaking swells and being submerged for five minutes, their water desalinator broke, 27 near collisions with super tankers and more… Severe sleep deprivation even caused hallucinations.
Speech Topics
---
Extreme Performance
Under extreme pressure and difficult circumstances your options are either failure or peak performance. Braam shares the story of his third world-first achievement: rowing unassisted from Cape Town to Rio de Janeiro all in the name of the DOT Challenge. Tremendous challenges face him from start to finish including near collisions, sleep deprivation and dehydration. Learn:
Dreaming big, planning well and minimizing risk
Discover your purpose and pursue it
Overcome obstacles and develop resilience
Mobilizing teams and influencing others
Change and Innovation: : Lessons from Nature, the Greatest Innovator
Don't survive. Thrive. Learn from nature and use change as a way to differentiate and accelerate. Change means you are alive. Stagnation means you are dying. Learn:
Innovation
How to respond in the moment of Crisis
How to leverage assets
Nothing is Impossible
How to turn big dreams into reality. Braam talks about his epic adventure and world-first: running the entire length of the Great Wall of China. A race against time that saw him and his running partner pitted against sandstorms, exhaustion and fear. Discover how family, purpose and a single child made it possible to overcome the impossible. Learn
Discover and harness your purpose
Develop a dream worth fighting for
Mental resilience and grit
Mobilizing teams
The I in TEAM
Discover the power of the individual in helping a team reach peak performance. Assess your own contribution: in nature you are either an asset or a liability… And learn from Braam's personal adventures and his troubled past in order to step up to a life of significance. Learn
Personal accountability
Teamwork
Collaboration
Discovering your Purpose
Passion and energy only comes once you go on your greatest adventure: discovering your purpose. Braam connect with the audience by helping them re-discover your childlike dream and understanding how their greatest failure and pain can be used as your most powerful asset. Personal adventures both physical and spiritual ensures you will be entertained and also deeply connected to your sole/soul purpose. Learn:
Your sole/soul purpose
Personal accountability
How to move towards success and significance
How your job, family and career is part of your life-adventure
Leading with Courage
Self-leadership and team-leadership require a level of authenticity, vulnerability and courage that moves us beyond ordinary to extraordinary. Braam, who is CEO and director for several organizations speaks to people in leadership on a personal level they don't usually expect. His personal adventures such as skiing to the South Pole, completely unassisted, in a race against time, required him to dig deep and find courage and leadership where there was none. How do we continue to lead every single day, even if there is no external motivator? Learn
Personal leadership
Values based leadership
Team leadership
Extreme Adventure
The story of your brand and your business is the biggest adventure you will ever encounter: come on the adventure of YOUR lifetime. Using stories from his greatest adventures, as well as his deepest regrets and failures, Braam helps people re-discover and re-connect with their personal and their business purpose. He elevates their thinking and connects personally. Learn:
Personal mastery and discipline
Values based leadership
Persuasion and negotiation
Related Speakers View all
---
Rick Ridgeway

Environmentalist, Mountaineer, Expedition Author, VP...

Alex Honnold

Professional Rock Climber & Star of the Academy-Awar...

Conrad Anker

Mountaineer & Captain of The North Face Climbing Tea...

Story Musgrave, M.D.

Retired NASA Astronaut; Physician & Professor at Art...

Neal Petersen

History-Making Extreme Adventurer, Award-Winning Aut...

Bonita Norris

Adventurer & Author of "The Girl Who Climbed Everest"

Alan Hobson

Author, Mt. Everest Climber & Cancer Survivor

David Breashears

Everest Adventurer, Filmmaker & Senior Lecturer at M...

Stacy Allison

Businesswoman, Adventurer, Author & Motivational Spe...

Luke Soderling

Cancer Surviver, Untrained Survivalist & Motivationa...

Jordan Romero

Author & Youngest Person to Climb Mount Everest

Shawn Harper

Former NFL Football Player, Successful Businessman &...

Bear Grylls

Adventurer, Author & Host of "Man Vs. Wild"

Ray Zahab

Ultra-marathon Runner and Adventurer; Host, "The Pro...

Scott O'Grady

Former U.S. Air Force Captain, Fighter Pilot Who Sur...

Kevin Cherilla

Founder of K2 Adventure Travel, Mountaineer, Motivat...

Sir Richard Branson

Businessman, Founder of Virgin Group

Mark Pollock

Explorer, Innovator, & Collaboration Catalyst

Paul Deegan

Motivational and Leadership Expert, Everest Mountain...

Alexandra Cousteau

Environmental Activist, Storyteller & Ocean Advocate
More like Braam