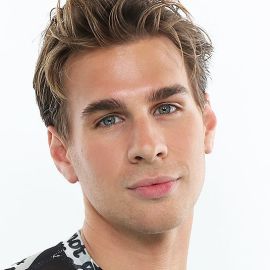 Brad Mondo
Hairstylist & YouTube Star
Brad Mondo is a digital creator, professional hairstylist and entrepreneur. Originally known for his wildly popular Hairdresser Reacts videos, the 25-year-old Brad has since launched his own hair care company and has amassed a loyal audience of nearly six million subscribers who watch his videos for the wealth of knowledge he possesses on hair and industry trends, and to have a great laugh while doing it. Hilarious, charming and just the right amount of extra, Brad is the premier digital creator leading the intersection of hair and humor.
As an entrepreneur, Brad is the Founder & CEO of XMONDO HAIR, a line of innovative, salon-quality hair care products. What first began with XMONDO's signature Glitterati styling serum has since grown into a full range of products, from shampoos and conditioners to intensive treatment balms, creams and oils.
After being born into a family of hair professionals and apprenticing at his father's salon from a young age, Brad took his breadth of experience from Massachusetts to New York City, where lent his expertise as a veteran hairstylist to various salons, as well as backstage at New York Fashion Week. He also styled several celebrity clientele, including Vanessa Hudgens, Chelsea Clinton, Shay Mitchell and Rachel Zoe. Now, Brad proudly uses his platform to share the experiences he's had along his journey from salon apprentice to digital star in the hopes of educating and inspiring those watching him.
Videos
---
Related Speakers View all
---
Gordon Miller

Consultant, Cosmotologist, Hairbrained CEO

Millie Haynam

Beauty Industry Professional for over 30 years, Owne...

Nick Arrojo

Celebrity Hair Stylist Known for "What Not to Wear"

Jen Atkin

Entrepreneur, Celebrity Hairstylist & Author

Alan Forrest Smith

Philosopher, Hair Specialist Known as "The Salon Punk"

Haley Wight

Beauty Expert, YouTube Vlogger

Pat McGrath

Legendary Makeup Artist, Founder of PAT McGRATH LABS...

Candy Shaw

Owner of Jamison Shaw Hairdressers & Founder of Sunl...

Beth Minardi

Co-Owner of Minardi Salon & Celebrity Hair Colorist

Rodney Cutler

Founder of Cutler Salons & Celebrity Hair Stylist

Estée Lalonde

Beauty Blogger EstéeLalonde.com United Kingdom

Stacy Cox

Beauty, Fashion & Lifestyle Expert

Ken Paves

Celebrity Hairstylist & Salon Owner

Ted Gibson

Celebrity Hair Stylist Known for TLC's "What Not to ...

Melanie Simon

Creator and Co-Found of ZIIP, Skincare Expert

Kirsten Brusse

Beauty Expert, Make-up Guru

Caroline Hirons

Beauty & Skincare Expert, YouTube Vlogger

Fleur DeForce

Beauty & Fashion Influencer, YouTube Vlogger

Lisa Eldridge

Make-up Artist, Businesswoman, Author, Beauty Vlogge...

Jackie Aina

YouTube Beauty Influencer
More like Brad