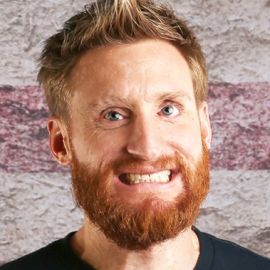 U.S. Paralympic Swimmer and Retired U.S. Navy Lt. Brad Snyder, is a five-time Gold Medalist and two-time Silver Medalist at the London 2012 Paralympic Games and Rio 2016 Paralympic Games. Snyder, a swimmer who won a gold medal on Sept. 7, 2012, the exact one-year anniversary of the IED explosion in Afghanistan that cost him his vision. In addition, Snyder broke the 30 year-old World Record in the 100m Freestyle during the Rio 2016 Paralympic Games.
While serving in Afghanistan in 2011, Navy officer Brad Snyder became permanently blinded after stepping on a bomb while trying to help other victims. The explosion took both his eyes, shattered his eardrum, and lacerated his face. He spent three weeks in intensive care and another five weeks in recovery. He recounts, "When you're kind of patching your life back together and figuring out how to adjust to blindness, you're not good at anything. Walking was a challenge. Cooking's a challenge. Dressing and color matching is a challenge. There are all these things that used to be no problem that are all of a sudden really challenging. I had a hard time getting the right amount of toothpaste on the toothbrush, because I can't see it."
Prior to this incident, Brad was known for his tenacity and fierce spirit, allowing obstacles to simply be springboards for his next achievements. Anything he set his sight to, he accomplished. "I'm going to show people that I'm not going to let this beat me. I'm not going to let blindness build a brick wall around me. I am going to find a way forward," stated Snyder.
Related Speakers View all
---
J.R. Martinez

Actor, Best-Selling Author, Motivational Speaker, Ad...

Story Musgrave, M.D.

Retired NASA Astronaut; Physician & Professor at Art...

Scott O'Grady

Former U.S. Air Force Captain, Fighter Pilot Who Sur...

Noah Galloway

U.S. Army Veteran, Amputee & Finalist on "Dancing Wi...

Jim Morris

Known for His Brief MLB Career & Subject of Disney's...

Shannon Miller

Olympic Gold Medalist, Health Advocate & Cancer Surv...

Brian Holloway

Five-Time NFL All-Pro; Motivation & Team Building Ex...

Vince Papale

Former NFL Player & Inspiration for the Movie "Invin...

Inky Johnson

Sports Motivation Expert & Author; Former Collegiate...

Jim Abbott

Former One-Handed Major League Baseball Pitcher

Austin Hatch

Two-Time Plane Crash Survivor, Former College Athlet...

Pat Williams

Motivational Speaker & Sports Executive; Senior Vice...

Dave Dravecky

Former Professional Baseball Player; Cancer Survivor...

Bill Capodagli

Author of "Innovate the Pixar Way: Business Lessons ...

Kyle Carpenter

Retired U.S. Marine, Youngest Living Medal of Honor ...

Heather Abbott

Boston Marathon Bombing Survivor, Amputee & Founder ...

Jessica Cox

World's First Armless Pilot & First Armless Black-Be...

Jan Fields

Former President of McDonald's USA & Chairman of the...

Erin Gruwell

Executive Director at the Freedom Writers Foundation...

Shoshana Johnson

First African American Woman POW in U.S. War History
More like Brad