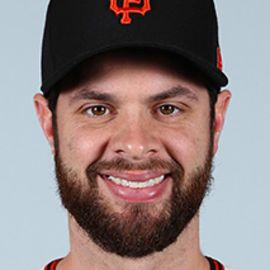 Brandon Kyle Belt is an American professional baseball first baseman for the San Francisco Giants of Major League Baseball (MLB). He made his MLB debut during the 2011 season. He was a member of the 2012 World Series and 2014 World Series championship teams with the Giants. Belt has also filled in at left field for the Giants.
After his strong showing in the minor leagues, Belt was invited to spring training in 2011, where he played in 28 exhibition games, the most on the team, and batted .282 with 3 home runs. On March 30, 2011, the Giants announced that Belt had been named to the opening day Major League roster, a moment captured in the series premier of The Franchise. He started in his first major league game the next day and singled off of Los Angeles Dodgers pitcher Clayton Kershaw in his first major league at bat,[8] finishing 1-for-3 with a walk. Belt hit his first major league home run on April 1, 2011, off Chad Billingsley.
On February 10, 2016, Belt and the Giants agreed to a one-year, $6.2 million contract to avoid arbitration. On April 9, 2016, Belt and the Giants agreed to a 5-year, $72.8 million contact extension through 2021. After winning the 2016 National League All-Star Final Vote, Belt was selected to his first All Star Game.
In 2016, Belt led all Giants batters with 104 walks, 17 home runs, a .394 on-base percentage, and .868 OPS. Belt became the first Giant to record 100 walks in a season since Barry Bonds in 2007.
Videos
---