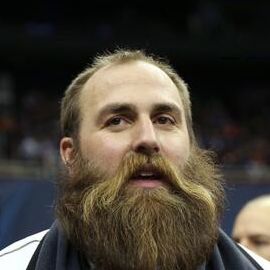 Brett Keisel was drafted by the Steelers in 2002 during the seventh-round. He played as a special teams player and, in five games and two postseason games, finished with seven solo special teams tackles. One highlight of Keisel's first year came in the Carolina game. He recovered a fumble on a punt that led to a Steelers touchdown, and also had three solo special teams tackles.
Keisel returned to the field in 2004 after missing a season due to injury, and continued his special teams play, but he also was getting some time on the field with the defense. He continued to be a special teams player and was also listed as a reserve defensive end. In the Baltimore game, he made one of the biggest plays of the game when he sacked quarterback Anthony Wright on third down on the Ravens' final drive. It was Keisel's first NFL career sack. In a game against the Bengals, he returned one kickoff for 11 yards. Another first for #99 came during a game against Cleveland. Keisel had a two-sack game, and a forced fumble. He was making his presence known both to his coaches and opposing players. He saved one of his best games for the AFC Championship game in Denver, where he compiled four solo tackles, including two sacks.
Keisel attended Greybull High School in Wyoming. He was a four-year letter winner in football and basketball. He also lettered twice in track. He was a four-time All-Conference selection and earned All-State honors playing tight end and linebacker. Some of his high school awards include winning Wyoming Player of the Year from USA Today, Sportslink Player of the Year, and Conference Player of the year. Keisel was red shirted his freshman year at BYU. He played defensive end his sophomore year and then the following year transferred to Snow College. He then returned to BYU to finish his college football career. Keisel had a total of 66 tackles, with 39 being solo tackles, 9 quarterback sacks, and 19 stops behind the line of scrimmage. Keisel racked up more athletic awards during college. He was a Super Team Selection (The NFL Draft Report),and he received All-Mountain West Conference Honorable Mention.
Keisel was selected as an inductee into the 2007 class of the Wyoming Sports Hall of Fame, as athlete of the year for football.