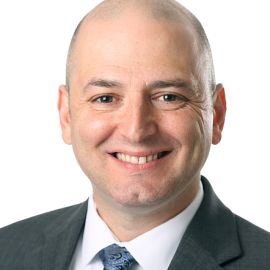 Brian A. Primack, MD, PhD
Dean of the Honors College, Director of the Center for Media, Technology, and Health, and Professor of Medicine and Pediatrics
Brian A. Primack is Dean of the Honors College, Director of the Center for Research on Media, Technology, and Health, and Professor of Medicine and Pediatrics at the University of Pittsburgh. He also holds the Bernice L. and Morton S. Lerner endowed chair.
After graduating Yale University magna cum laude in 1991 with degrees in English and Mathematics, Dr. Primack spent 4 years teaching adolescents and studying human development and psychology for his master's degree, which he received from Harvard University. He subsequently graduated first in his class and summa cum laude from Emory Medical School and trained in Family Medicine in Pittsburgh. His PhD is in behavioral science from the University of Pittsburgh.
Dr. Primack is a pioneer in the study of both positive and negative effects of media messages and technology on health. In 2014, he was a featured speaker at the national TEDMED conference on this topic. His studies on media, technology, and health have been published in a wide variety of leading journals such as JAMA Psychiatry, JAMA Pediatrics, American Journal of Preventive Medicine, American Journal of Public Health, Journal of Adolescent Health, Addiction, Tobacco Control, Journal of Emergency Medicine, and Journal of the National Cancer Institute. The University of Pittsburgh Media office estimates that press related to his studies have reached over 250,000,000 subscribers via outlets such as the New York Times, the International Herald Tribune, TIME Magazine, and NPR's ""Here and Now." He has also been successful at translating research findings to substantially influence policy. For example, his research on the diversification of tobacco product use has been cited in official policy documents of organizations such as the US Food and Drug Administration and the World Health Organization.
He is the recent recipient of regional, national, and international awards for research, teaching, and overall achievement, including the Innovation in Education Award (2005), the New Investigator of the Year by the Society of Adolescent Health and Medicine (2006), the Robert Wood Johnson Faculty Physician Scholar Award (2009), the Early Career Research Award from the Society of Behavioral Medicine (2010), the University of Pittsburgh Cancer Institute Junior Faculty Scholar Award (2010), the Outstanding Medical Student Mentoring Award (both 2013 and 2014), and the Institute for Clinical Research Education's Outstanding Alumnus of the year (2016).
Dr. Primack lives in Pittsburgh with his wife and two children. In his leisure time he enjoys playing music and acting. Professional roles have included Joseph in Joseph and the Amazing Technicolor Dreamcoat, Romeo in Romeo and Juliet, and The Lord Chancellor in Iolanthe.
Videos
---
Speech Topics
---
Influence of media (such as social media, video games, advertising, movies, and television) on youth and adult health outcomes (such as substance use, eating disorders, obesity, depression, anxiety, and violence); using media literacy as an intervention;
Related Speakers View all
---
Dr. Joel Selanikio

Award-winning Physician, Health & Technology Activis...

Daniel Kraft, M.D.

Chair for Medicine & Neuroscience, Singularity Unive...

Katherine Kuzmeskas

Co-Founder & CEO of SimplyVital Health

Jason Killmeyer

Senior Consultant for Deloitte Consulting

Dr. Ido Schoenberg

Chairman and CEO, American Well

Erica Weirich

Founder, Global Health Research Foundation

Tal Golesworthy

Tal Golesworthy is an engineer and entrepreneur, wor...

Shradha Agarwal and Rishi Shah

CEO; President, Outcome Health

Daniel Altman

Internationally Bestselling Author Forecasts the Fut...

Read Montague

An American neuroscientist and popular science autho...

Peter Thiel

Former CEO and Co-founder of PayPal; Technology Entr...

Dr. Paul Wolpe

Asa Griggs Candler Professor of Bioethics; Director,...

Virginia Postrel

Author & Columnist; Writes on The Intersection of Co...

Ray Kurzweil

Chairman of Kurzweil Technologies; Inventor; Futurist

Esther Dyson

Executive Founder; Way to Wellville

Nicholas Carr

Author of "The Big Switch" & "The Shallows"; Expert ...

James Canton

Futurist, Author & Visionary Business Advisor

Dan Ariely

Behavioral Economist, Professor at Duke University, ...

Dr. Nick van Terheyden

Digital Healthcare and Innovation Expert, Former Chi...

Nadine Hachach-Haram

Co-Founder Proximie, NHS Clinical Entrepreneur Fello...
More like Brian