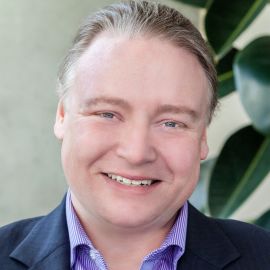 Behlendorf was a primary developer of the Apache Web server, the most popular web server software on the Internet, and a founding member of the Apache Software Foundation. He has also served on the board of the Mozilla Foundation since 2003 and the Electronic Frontier Foundation since 2013. He was the founding CTO of CollabNet and CTO of the World Economic Forum. Most recently, Behlendorf was a managing director at Mithril Capital Management LLC, a global technology investment firm.
As CTO of CollabNet, he helped guide the company to its leadership position in distributed software development with over one million users on CollabNet's on-demand collaborative development environment. Founded upon open source principles, CollabNet is the primary sponsor of the SubversionTM, an open source project initially led by Brian to create a new standard for version control.
Before launching CollabNet, Behlendorf was co-founder and CTO of Organic Online, a Web design and engineering consultancy located in San Francisco. During his five years at Organic, Behlendorf helped create Internet strategies for dozens of Fortune 500 companies. During that time, he co-founded and contributed heavily to the Apache Web Server Project, co-founded and supported the VRML (Virtual Reality Modeling Language) effort, and assisted several IETF working groups, particularly the HTTP standardization effort. Before starting Organic, Behlendorf was the first Chief Engineer at Wired Magazine and later HotWired, one of the first large-scale publishing Web sites.
Behlendorf is currently a Director of the Mozilla Foundation and a retired Director and President of the Apache Software Foundation. In January 2006, he was named a Young Global Leader by the Forum of Young Global Leaders, an affiliate of the World Economic Forum. Behlendorf is one of only 41 people in North America chosen to join this powerful international community tasked with making a positive impact on the global future. Behlendorf moderated a software panel at the 2006 World Economic Forum Annual Meeting in January 2006 in Davos, Switzerland.
He was a managing director at Mithril Capital, a global technology investment firm based in San Francisco, from 2014 until he joined the Linux Foundation. In 2016, he was appointed executive director of the open source Hyperledger project at the Linux Foundation to advance blockchain technology.