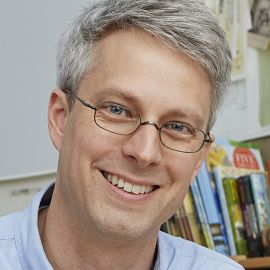 Brian Floca
Writer & Illustrator of Children's Books; Known for "Locomotive," "Moonshot," and "Lightship"
Brian Floca is the author/illustrator and illustrator of numerous award-winning books for children. Brian was born and raised in Temple, Texas, graduated from Brown University, received his MFA from the School of Visual Arts, and currently lives and works in Brooklyn, New York.
While a student at Brown, Brian was able also to take classes at the neighboring Rhode Island School of Design, including one with author and illustrator David Macaulay. Macaulay's class led to an introduction to author Avi, which in turn led to Brian illustrating Avi's graphic novel City of Light, City of Dark, published by editor Richard Jackson at Orchard Books.
Brian's books as author and illustrator include Locomotive, winner of the 2014 Randolph Caldecott Medal, a Robert F. Sibert Honor Book, an Orbis Pictus Honor Book, a New York Times 10 Best Illustrated Books of the Year selection, and a New York Times bestseller; Moonshot: The Flight of Apollo 11, a Sibert Honor Book, New York Times 10 Best Illustrated Books of the Year selection, and Society of Illustrators silver medal winner; Lightship, a Sibert Honor Book and a Booklist "Top of the List" picture book; and The Racecar Alphabet, an ALA Notable Children's Book and a Kirkus Reviews Editor's Choice.
Brian has illustrated Avi's Poppy, winner of the Boston Globe-Horn Book Award, the five other books in the popular Poppy Stories series, as well as Avi's recent novel Old Wolf. Other books illustrated include Ballet for Martha: Making Appalachian Spring, by Jan Greenberg and Sandra Jordan, a Sibert Honor Book, winner of the NCTE Orbis Pictus Award for Outstanding Nonfiction for Children, and an IBBY Honor Book; Elizabeth, Queen of the Seas, by Lynne Cox; Princess Cora and the Crocodile, by Laura Amy Schlitz; and Hawk Rising, by Maria Gianferrari.
Brian has spent summers painting billboards, has answered telephones and checked student IDs at Harvard University's Office of Career Services (part-time job), and has taught continuing education and undergraduate classes at the School of Visual Arts. He currently writes and illustrates full-time.
Videos
---