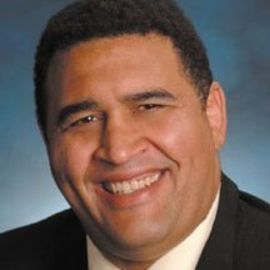 As the #1 high School recruit, Stanford's Bill Walsh found his new leader that would launch his high-powered West Coast Offense - 6'7", 275lb Tackle Brian Holloway. Holloway's passion, work-ethic and leadership lifted Stanford to national rankings while protecting future Hall of Famer, John Elway's blindside. Holloway captured the interest of all the NFL Teams particularly, Tom Landry's Dallas Cowboys, Chuck Noll's Pittsburgh Steelers, Joe Gibbs Washington Redskins, while becoming the most dominating left tackle in the 1981 NFL Draft.
The timing was perfect. Holloway's fierce competitive team spirit, new style of full field play transformed the 2-14 New England Patriots into a culture of Champions. In 1985, as a 5X All-Pro and Team Captain, Holloway led the Patriots to their 1st Super Bowl facing the "Super Bowl Shuffle" 85 Chicago Bears. Despite the loss, the gateway to the Super Bowl was now open and their sacred 7 Covenants of Team Champion, today known as The Patriot Way continues to drives the New England Patriots Dynasty.
As Executive Vice President of NFL Players Association, Holloway helped negotiate the new collective bargaining agreement that resulted in the NFL's landmark Billion Dollar TV Contract. ABC Sports recruited Holloway away from the NFL, where he quickly crafted the first digital broadcast platform portal generating 3,000,000 views in the first 48 hours. This innovation changed sports broadcast marketing forever and today is now a multi-billion dollar global enterprise.
Today, as America's #1 Celebrity Motivational Speaker, Holloway has traveled over 15,000,000 miles hired by 479 Fortune 500. Some of his recent clients include Apple, HP, Microsoft, Intel, Verizon, Harvard, Yale, The White House, and the U.S. Department of Homeland Security.
In 2019, Holloway's digital footprint exceeded 126,000,000 in 185 countries. Holloway remains one of the most influential and inspirational minds in America.
Holloway comes from a long line of prominent national leaders who helped shape America, he is the 5th generation of advisors to The White House and Homeland Security. His primary residence is in Florida where he and his wife Julie enjoy their 10 children and 8 grandchildren.
Holloway Has Been Featured On…
Good Morning America, FOX & Friends, Google News, Today Show, The Tonight Show, Huffington Post, Yahoo Sports, ESPN, Greta Van Susteren, FOX & Family, New York Times, Wall Street Journal, New York Post, FOX News Channel, The Mary Jones Show, Harper's Magazine, Luxury Lifestyle Media, New York Magazine, The Kelly Files, Arise News, The John Gibson Show, CNN First Edition, The Roe Conn, The Richard Roeper Show, The Joey Sanders Show, The Daily Mail, NFL Today, SPORTSCENTER, Huffington Post, BUZZ FEED, Washington Post, New York Daily News, Los Angeles Times, The Bleacher Report, ESPN Shutdown Corner, THE GOTHAMIST, Pro Football Talk, and The Mike The Huckabee Show.
Videos
---
Speech Topics
---
DYNASTY CRAFTING: THE POWER OF CHAMPIONSHIP TEAMS
(45-90 minutes) To Increase Performance, Improve Customer Relationships And Win Gains In Market Share. The most powerful and explosive asset and organization has is the total knowledge base of their TEAM. On Championship TEAMS the knowledge, the ideas, the creativity and the passion comes together for a total TEAM focused effort. These synergies create synergies to achieve a future that was not possible before. In today's competitive marketplace this is the only competitive advantage that truly exists…this is the SECRET of TEAMS.
The DNA! of CHAMPIONSHIP TEAMS
(45-90 minutes) Winning TEAMS Win for a reason. They have a Winning System that brings out the Winning Culture and releases the ultimate WINNING Edge! The Winning Attitude. I will literally take you into the most important learning any business leader could ever have that will literally SOLVE FOREVER some of the biggest dilemmas that prevent TEAMS from coming together. You will leave this presentation with the exact step-by-step process that will turn around YOUR TEAM in 24 hours. Once this system is in place – you will never again be blind sided by backbiting, blameshifting and the silent but deadly, withholding – organizational viruses that Kill fast company. (All this stuff operates invisibly underneath the organizations conversation, crushing inspiration, sucking the life and energy out of the living system. One senior executive replied…"I learned more about organizational excellence in this fast paced jammed packed 3 hours – than I did in MBA at Harvard."
UNLEASHING THE PASSION OF THE PLAYMAKER
(45-90 minutes) For Those High Powered Executives That Must Make The Impossible Happen. This is the crown jewel of motivational keynotes. It is the most requested keynote from my clients that include 228 Fortune 500. After 16 years inside the Super Culture of World Class competitors and 12 years inside corporate boardrooms this is the most important conversation they will ever have. These are my promises. (1) I will get leaders "un-stuck" once and for all. (2) I will uncover the untapped wealth, power & potential that lies harbored inside the flurry of business activity. (3) I will provide the solutions to getting people on-board once and for all. (4) I will clearly define the pathway to the next level and provide the momentum to get there. (5) The impact will be measured in decades.
THE MINDSET OF THE CHAMPION.
(The Ultimate Winning Edge!) Getting To The Next Level! -- Turn Around The Stubborn & Resistant to Become The Inspired Super Charged TEAM. No more sleepless nights wonder what "else" is going to happen next. There's nothing worst than living in the nightmare of your dream that is dying hard. In today's high paced, stressed out business environment the competitive charge has turned from WINNING –- to seeking security and hoping for survival. This is not a time for resignation and despair – it's time to break out of the "box" and reinvent who we are in the face of the impossible. In Sales we must have the mindset of the Champions. This is how we WIN the sacred CUSTOMER
EXPERIENCE
to secure the life client relationship. No more backbiting. No more blame shifting. No more silent but deadly withholding. It's time to get back in the GAME and get to the next level. This keynote is a jaw dropper. High impact. This gets your TEAM from the sidelines as spectators to the field as a PLAYMAKER. (Most people who are talking about being burnt out – haven't even been lit yet.) Entertaining. Fun. High Energy. Interactive.
CRUNCH TIME!
-- WINNING! With YOUR TWO MINUTE OFFENSE!** This is not a keynote. This is a WAKE UP CALL! This is high-level corporate learning when you are in THE PEAK MOMENT. There are 7 very specific things a LEADER must do to reach their TEAM to launch the TWO-MINUTE OFFENSE. TWO-MINUTE OFFENSE is the most powerful battlefield strategy that can advance your position FAST; it requires that you MAKE THE IMPOSSIBLE HAPPEN. It all comes down to energy, execution and an obsessed PASSION to WIN. The bottom line… it's CRUNCH time and there is no margin for error. You don't just turn this switch on and off – you must develop this high octane MUSCLE within the culture, conversation, attitude and beliefs. It's the only way to SUCCEED in a shifting, uncertain and turbulent future.
Executive Bootcamp.
(1 Day) This is not a speech. This is a thoughtful conversation for the serious minded. THIS IS HARD.
The Passion of the Playmaker.
The most requested client keynote from the Fortune 500. "Powerful! Meaningful! Relevant! Important! Inspirational!"
Win the Customer Experience.
In Sales we must have the mindset of the Champion to win, to secure the life client. "A High Speed Roller Coaster Ride You Will Never Forget!"
Related Speakers View all
---
J.R. Martinez

Actor, Best-Selling Author, Motivational Speaker, Ad...

Story Musgrave, M.D.

Retired NASA Astronaut; Physician & Professor at Art...

Jim Morris

Known for His Brief MLB Career & Subject of Disney's...

Coach Ken Carter

Coach, Author, Educator & Inspiration for the Film "...

Vince Papale

Former NFL Player & Inspiration for the Movie "Invin...

Pat Williams

Motivational Speaker & Sports Executive; Senior Vice...

Joe Theismann

World Champion Quarterback, Broadcaster & Entrepreneur

Inky Johnson

Sports Motivation Expert & Author; Former Collegiate...

Jim Abbott

Former One-Handed Major League Baseball Pitcher

Eduardo Briceño

Growth Mindset and Improvement Expert; Co-Founder of...

Shannon Miller

Olympic Gold Medalist, Health Advocate & Cancer Surv...

Doug Lipp

Former Head of Training at Walt Disney University & ...

Bill Capodagli

Author of "Innovate the Pixar Way: Business Lessons ...

Shawn Harper

Former NFL Football Player, Successful Businessman &...

Scott O'Grady

Former U.S. Air Force Captain, Fighter Pilot Who Sur...

Haydn Shaw

Expert in Generational and Cross-functional Roles, C...

Rudy Ruettiger

Motivational Speaker, Author & Inspiration for the A...

Vince Poscente

Former Olympic Speed Skier, Best-Selling Author, Lea...

Mike Eruzione

Captain of the 1980 US Olympic Hockey Team & Subject...

Austin Hatch

Two-Time Plane Crash Survivor, Former College Athlet...
More like Brian