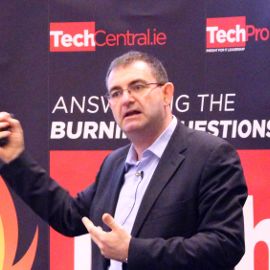 Brian Honan
Brian Honan is a recognised internationally as an expert on cybersecurity. He is a special advisor to Europol's Cybercrime Centre (EC3), founder of Ireland's first CERT, and sits on the advisory board for several innovative security companies. Brian is th
Brian Honan is a recognised internationally as an expert on cybersecurity. He formerly was a special advisor to Europol's Cybercrime Centre (EC3), founder of Ireland's first CERT, and sits on the advisory board for several innovative security companies. Brian is the author of several books and regularly contributes to various publications. For his contribution to the cybersecurity industry Brian has been awarded the "SC Magazine Information Security Person of the Year" and was also inducted into the Infosecurity Hall of Fame
Speech Topics
---
Being Secure in an Insecure World
Today our society, our economies, and our personal and business lives rely more and more on technology, information, and computer systems. While these new technologies and systems bring many benefits to us they also introduce many new threats. Cloud computing, Bring Your Own Devices, Internet of Things, wearable technologies, and social media are just some examples of how our lives are changing. In this ever changing world where technology is becoming more ubiquitous and user focussed how do we ensure the security of the information in our systems? In this talk Brian Honan will: Outline the challenges and threats new technologies are presenting to businesses Discuss how future trends may impact our businesses Present a number of steps on how to better deal with and manage these challenges while not restricting the benefits they bring
Creating a CERT at WARP Speed: How To Fast Track the Implementation of Your CERT
major challenge facing those trying to set up a Computer Emergency Response Team is developing the tools and platform to support the initiative. This session will look at how the WARP (Warning Advice and Reporting Point) platform can be used to facilitate the establishment of a CERT in a cost effective and efficient manner. After spending 4 years trying to convince the Irish Government to establish a national Computer Emergency Response Team with little or no progress, Brian Honan set up a not for profit company to offer CERT services to the Irish business community. However, faced with a very small budget Brian had to determine how best to implement the CERT without compromising the level of service provided to the target community. This talk will cover Brian's journey as he progressed from the initial conception to actually setting up IRISS-CERT,www.iriss.ie, which is now Ireland's only CERT. Brian will discuss how and why he decided what services were required by the business community and how he used the WARP (www.warp.gov.uk) platform to provide those services.
Breach 360: How Top Attacks Impact Tomorrow's Laws, Litigation, Security
e all know how the Target, Sony and Anthem breaches were seismic, but have you truly considered how the aftershocks of these breaches will forever change the security profession? See breach experts discuss:
The evolution of new breach laws and litigation in 2015; The latest attack targets and techniques; What to look for in the next-generation of security controls.
Disrupting the Progression of a Cyber Attack
Before medieval marauders had any hope of capturing the castle, they first had to overcome a series of obstacles designed to keep them from reaching their goal. By analyzing your adversary steps, you are in a better position to segment, analyze and mitigate an attack. In addition, firms can build a fortress of proactive defense controls and provide the time to react decisively.
Breach-Aholic Anonymous – What Can We Learn From Data Breaches?
Currently, there is no universal EU law to mandate firms within the European Union to alert regulators when they've suffered a breach. Given that this lack of mandated disclosure laws does not affect whether organisations are being attacked or not, this session will cover some of the lessons learned from a variety of data breaches
Mayans, Mayhem and Malware
This panel focuses on the persistent gaps and perennial conditions confronting organizations today, notably in areas of compliance and governance related to threat mitigation, education and awareness. Also, we examine the resurgence of advanced, malicious code & content intelligent enough to obfuscate, assess, re-assess and execute against a programmatic strategy.
Hacking Senior Management - Selling Security to the Board
Security incidents are making mainstream media headlines. There is higher visibility than ever of the organisational impact bad security can have. Compliance issues are driving business to take security more seriously. So why is it that security professionals still lament not getting senior management buy in? Does the blame rest with the management or with security professionals themselves?
UNSCRAMBLING THE OMELETTE – HOW SHOULD ORGANISATIONS DEAL WITH SECURITY BREACHES IN THE MODERN PERIMETER-LESS NETWORK?
In today's modern business many companies can no longer define the perimeter of their network by their own firewalls. With cloud computing, personal devices, social media, and the increasing sophistication of the attackers, companies need to no longer just defend their network – but more importantly defend where their data is. This presentation outlines both the risks posed to many business's data and systems, and strategies on how to deal with those risks.