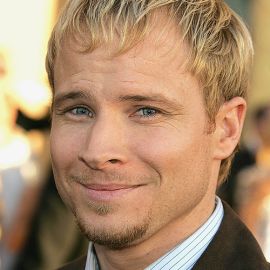 Brian Littrell was born with a congenital heart problem and found solace from his childhood medical challenges through faith and singing, combining both in the church choir.
In April of 1993, the high school student was unexpectedly invited to audition for a new pop group, the Backstreet Boys, by his cousin Kevin Richardson. The next day he was selected as the quintet's final member alongside Richardson, Nick Carter, AJ McLean and Howie Dorough. After making their mark in Europe, the band unveiled their 1997 debut album stateside. It sold 13 million copies with highlights like "Quit Playin' Games (With My Heart)" and "As Long as You Love Me."
In between churning out more hits and putting on concerts, Littrell, the conservative, more straitlaced Backstreet Boys member, found time in the studio for the music he longed to create. In 2006, he released his first Christian-music album, Welcome Home. It reached No. 3 on the Christian album chart, No. 1 on the U.S. Christian Inspirational chart and No. 74 on the Billboard 200 chart. Later, Littrell won two Gospel Musical Association (GMA) Dove Awards for Inspirational Recorded Song of the Year in 2006 and 2008. He also took home a GMA Dove Award for Special Event Album of the Year in 2008.
The grateful Littrell almost never made it to fatherhood: In 1997, he underwent open-heart surgery to fix a hole in his heart, and doctors found a hidden second one. Littrell said it was a miracle that he survived. His 7-year-old son endured his own scare, overcoming Kawasaki disease (an inflammation of the blood vessels) in 2008. Grateful for his family's health, the pop star now runs Brian Littrell's Healthy Heart Club for Kids, providing information and support to families with children contending with heart conditions.
In 2013, Littrell made an appearance in the comedy "This Is the End," along with the rest of the Backstreet Boys.