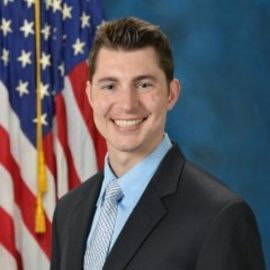 Brian Reese
The Millennial Business Coach™, Millennials (Gen Y), iGen (Gen Z) and Generations Expert
Brian Reese is The Millennial Business Coach™. He has been speaking, coaching, and consulting since 2007. He is a former active duty Air Force officer with extensive experience leading teams in challenging international environments, including a combat tour to Afghanistan in 2011. He has founded and scaled four successful companies ranging from tech startups to consulting firms.
He is a Distinguished Graduate of Management from the United States Air Force Academy, Colorado Springs, CO and he holds an MBA from Oklahoma State University's Spears School of Business, Stillwater, OK, where he was a National Honor Scholar (Top 1% of Graduate School class).
Speech Topics
---
What Millennials Will NEVER Tell You!
-- Like it or not, 90% of millennial (Gen Y) hires, make the decision to stay with you or dump you on their very FIRST day at your company!
-- By 2025, millennials (18-35 year olds) will be 75% of the U.S. workforce, that's 112 million workers in the U.S. alone (millennials are currently just 25% of the U.S. workforce).
-- Millennials are the first generation in history to have ZERO expectation of lifetime employment. They do not expect to work for one company their entire lives.
-- Millennials do NOT believe that you (or your organization) are their only or best option. There's a really good chance (83%) that your best millennial employees are already considering moving on, and you don't even know it!
-- The #1 reason millennials will leave you and your organization has NOTHING to do with their salary! And the #1 reason they stay is guaranteed to surprise you…
The greatest source of untapped competitive advantage available to your company today is millennials. Finding new and innovative ways to recruit, develop, and retain top Gen Y talent is vital for any company looking to thrive over the next decade. Unfortunately, many companies are failing miserably, and the cost is unimaginably high. Watch the business news: Fortune 500's will disappear!
But, there is hope! Yes, millennials trust their own. They WILL (and do) tell me everything. I've mentored, coached, and developed close personal relationships with more than 500 millennial employees. They confess to me what they'll never tell you.
Isn't it time you cracked the millennial code?
Leading Across Generations
For the first time in history, four distinctly different generations are working together, side-by-side: Traditionalists, Baby Boomers, Gen X, and Gen Y.
Drawing on Brian's coaching, consulting, and military leadership experiences with more than 500 millennial employees and dozens of Fortune 100 companies, his ways to "get on the same page" to create a high-performing team are guaranteed to entertain and surprise you.
News
---
Is Having a Coaching Culture a Competitive Advantage?
In 2016 and beyond, businesses face an unprecedented set of new challenges. In the next 12 months, businesses will have to contend with new government regulations, an increasingly multi-generational workforce, and new technologies. Many aspects of day-to-day leadership will have to change just to maintain the status quo.
These uncertainties significantly affect today's workforce, especially employee engagement and productivity. In fact, 83% of employees surveyed say they are currently looking for a new job or plan on looking for a new job. (Salary.com)
10 Ways to Attract Top Millennial (Gen Y) Talent
Hint: It's not with free craft beer and pizza…although that might actually work.
As a member of the millennial generation (Gen Y), which I define as those born between 1980 and 2000, I feel a unique calling to help employers recruit and retain top millennial talent. In doing so, you will improve communication across all generations, reduce turnover among your best employees, boost morale and productivity, and increase your bottom line.
Okay…you're busy, and you're wondering why you should care. You should care because your company can't afford not to. Gen Y is entering the workforce at a rapid pace, and we will be 75% of the workforce (that's 112 million workers in the U.S. alone) by 2025. We're also the first generation in history to have ZERO expectation of lifetime employment. And 90% of us make the decision to stick with you or dump you on the very FIRST day at your company. You need Gen Y...and you need us to stay.
One of my goals is to help clients realize that millennial retention begins BEFORE you even start recruiting them. The retention process begins in your corporate recruiting strategy. You want to develop processes and procedures to attract the right millennial talent.
If you're an employer, you might want to make the following 10 "Gen Y Magnets" part of your corporate recruiting strategy. These magnets work for companies small and large. They also work whether a single person or an entire department is involved in your recruiting.
How Highly Effective Leaders Gain Power and Influence
Let me begin by saying that I don't like definitions of leadership. Why, you ask? Because everyone has one, and we're not likely to agree on a standard definition anytime soon. The last time I checked, there are literally thousands of definitions…
To me, how one defines leadership is not nearly as important as the "what" and "how" of leadership…aka "what" highly effective leaders do and "how" they do it.
Ultimately, the effectiveness of a leader is defined and measured by his/her ability to do two things:
To achieve exceptional organizational results
To build high-performing teams that win
Therefore, the "what" of leadership is the ability to achieve exceptional organizational results and the "how" of leadership is the ability to build high-performing teams that win.