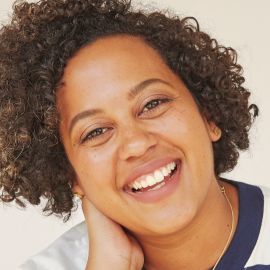 Brit Barron
Speaker, Entrepreneur & Author of "Worth It"
Brit Barron is a speaker, teacher, and author. She is a natural connector and steps onto stages to address areas of personal development, race, gender, and sexuality. An experienced storyteller, Brit is known for her ability to use personal narratives and experiences from her life to highlight larger, universal truths, for her approachable method of teaching, and for finding the ways in which we are all connected.
Growing up in an Evangelical megachurch in the '90s, Brit was always trying to fit neatly inside the boundaries her church and its narrow view of God had placed around her. She was boxed in by her fears, unable to realize her full potential. All that changed when she met a girl named Sami, fell in love, and chose to leave behind those narrow boundaries in favor of a fuller and more vibrant life.
Brit's first book, Worth It: Overcome Your Fears and Embrace the Life You Were Made For, released in Summer 2020. In Worth It, Brit tells her story to inspire all of us to overcome our own fears--the kinds of fears that keep us from evolving beyond the narratives that have been handed to us by others. We can't avoid or outrun these fears, but if we face them, we'll find out that it was so worth it!
Brit and her wife, Sami, live in southern California with their dog, Charles Barkley. Brit is equally passionate about having honest and at times difficult conversations and also finding joy every single day and making time to have as much fun as possible.
Videos
---
Speech Topics
---
Personal Development; Race, Gender and Sexuality
Related Speakers View all
---
Barbara Smith

Founder of The Kitchen Press; Author & Activist

Dr. Laura Berman

Sex Educator, Therapist & Researcher

Jeffrey Marsh

Nonbinary, Genderfluid Author of "How To Be You"

Baker A. Rogers

Associate Professor of Sociology & Author

Ruby Sales

Founder & Director of The SpiritHouse Project

Cayden Mak

Executive Director at 18 Million Rising

Jamilah Lemieux

Writer, Cultural Critic, Columnist at Slate, Co-Host...

Geena Rocero

Transgender Model & Advocate; Founder of Gender Proud

Bell Hooks

Author, Professor, Feminist, & Social Activist

Zanele Muholi

Visual Artist, Photographer, Co-Director of "Difficu...

Iris Krasnow

Best-Selling Author & Relationship Expert

Michelle Theall

Editor in Chief of Alaska Magazine, Author, "Teachin...

Caroline Criado Perez

Award-Winning, Best-Selling Writer & Feminist Campai...

Avis Jones DeWeever

Award-Winning Author, International Speaker, Politic...

Jessica Buchleitner

Innovative Communicator, Storyteller & Equality Dipl...

Karen Shiffman Lateiner

Author, Youth and LGBTQ+ Advocate

Helen Pluckrose

Humanist, Secularist & Universal Liberal

France Villarta

Communications Consultant for Wells Fargo & LGBTQ+ A...

Vanessa Sheridan

Director of Gender Equity and Inclusion at Center on...

T Kira Madden

Author of "Long Live the Tribe of Fatherless Girls"
More like Brit