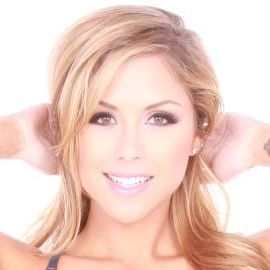 Brittney Palmer
An accomplished artist, spokes model, host, and dancer, Brittney Palmer is a modern day Renaissance Woman.
A six-year veteran of the entertainment industry, Brittneys always been driven by her passion to immerse herself in art, whether its the art of painting, music, dancing, or jiu jitsu.
As a featured personality for the past four years, this Ultimate Fighting Championship Octagon Girl is woven into the fabric of the mixed martial arts world. With over 100 million worldwide viewers for each event, Brittney is cage-side, preparing to balance the beasts with her beauty as she readies everyone for the next round of action.
In a sport with very few female personalities, the thousands of sports and entertainment media outlets that cover MMA worldwide everyday seek Brittneys unique perspective. From her days circling the cage with World Extreme Cagefighting, Brittney has been at the forefront of a sport thats exploding in popularity across the globe. Shes been featured across a plethora of media, having most recently completed The Ultimate Fighter Brazil, with each episode averaging nearly 30 million viewers in Brazil alone.
A professional model and entertainer since the day she turned 18, Brittney was ready for the spotlight. Growing up in Las Vegas, its impossible not to gravitate toward the glitz and glamour of the live shows on The Strip. In four short years, she left her mark: first appearing in Ultimate Variety Show, followed by a featured act in Jubilee, then as a magicians assistant to Nathan Burton, culminating as the lead dancer in X Burlesque at The Flamingo Hotel and Casino.
Painting for the majority of her life, Brittney made the commitment to start her art career by engrossing herself in the epicenter of the art culture: Venice Beach. A self taught artist, shes attending art school at UCLA in Los Angeles to take her passion to the next level. A flower child at heart, the Woodstock era inspires her collection of acrylics on canvas. Capturing her take on rock and pop cultural icons from the 1960s and 70s, her creations have been a big hit from both critics and collectors.
Featured on the cover of Playboy Magazine in March 2012, Brittney joins an extensive list of celebrity icons that have graced the cover in its 58 years.