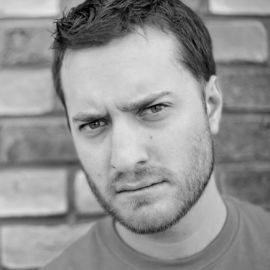 Brock Baker was born on March 7, 1986 in Littleton, Colorado. Right then, his parents knew he was destined for fame due to his perfect impression of an infant child. From here on out, he continued to do impressions of everyone and everything around him. People on TV, neighbors, pets, even the coffee table. Brock is also a comedian, a writer, a director and a hand model. Have you seen his hands? They're divine. Brock has always had the knack for making people laugh.
Skip ahead a bunch of years to 2006. YouTube is the wave of the future. Brock decided to post impression videos for all to see. It was a rocky start, but thanks to hard work, determination and countless hours of practice and coffee, Brock has become the most viewed and most subscribed impressionist on all of Youtube. His videos have amassed over 100 million views, and the general consensus is that people love Brock and they want more! They also love his beard. Brock is also a beard model. Brock then gave himself the title "The Man of a Kajillion Voices." How many is a "kajillion," you ask? Around 300-400. "Kajillion" just sounded cool.
Brock has also done work for the likes of Oreo, Google, Mondo Media, How It Should Have Ended, AFLAC and more! Brock plans to take over the world with his comedy, voice, beard and lightning that shoots from his fingers. Join him, won't you?
Videos
---
Related Speakers View all
---
Jenna Marbles

YouTube Sensation

Olajide Olatunji ("KSI")

YouTube Star Known for His Comedy Sketches and Video...

The Fine Bros.

Online Producers, Writers & Directors; Known for The...

Lilly Singh

YouTube Personality, Comedian, Author & Actress; Hos...

Taryn Southern

Artist and Digital Storyteller

Mikey Bolts

YouTube Comedian and Internet Personality

Evan Fong (VanossGaming)

YouTube Gaming Star

Connor Franta

American YouTube Vlogger, Internet Personality & Ent...

Liam Dryden

Scottish Internet Personality; Known as a Part of th...

Mamrie Hart

Host of the YouTube Show "You Deserve A Drink"

Tyler Oakley

YouTube Personality & New York Times Bestselling Aut...

Jerome Jarre

French Entrepreneur, Vine and Snapchat Star

Nash Grier

Social Media Guru & Digital Influencer

Michael Stevens

YouTube Sensation; Best Known as Vsauce

Demi Barnes

Demi Barnes, the 15-year old mostly known for making...

Joe Sabia

Head of Development at Conde Nast Entertainment, Dir...

Michelle Phan

Make-Up Artist, Entrepreneur, YouTube Personality; F...

Michael Buckley

Internet Celebrity, Comedian and Vlogger of Celebrit...

Lucas Cruikshank

Comedic Actor; Creator of the Character Fred Figgleh...

Matt Vasey

Senior Director of Artificial Intelligence at Micros...
More like Brock