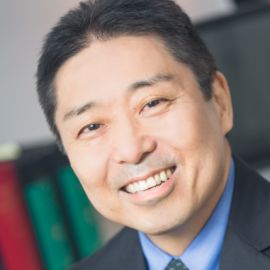 Captain Bruce I. Yamashita, USMCR
Japanese American lawyer and a former officer in the United States Marine Corps Reserves
When Bruce Yamashita arrived at Marine Corps Officer Candidate School, one of the first things he heard was a staff sergeant yelling, "You speak English? We don't want your kind around here. Go back to your own country." Another sergeant ridiculed him, saying, "We have no tea and sushi here, Yamashita." Another spoke to him only in broken Japanese.
The racial and ethnic harassment continued for all nine weeks of the program until, two days before graduation, Yamashita, along with three other minority candidates, were kicked out of Officer Candidate School.
Yamashita spoke up and fought to right the wrongs he had suffered to make sure others like him wouldn't suffer in the future. His story is brought to life in the critically acclaimed documentary, A Most Unlikely Hero.
It took years, but Yamashita finally uncovered the secret that brought him justice, a secret that proved he wasn't alone. A secret the Marine Corps didn't even realize it was keeping. He uncovered data that proved a pervasive, consistent pattern of discrimination against minorities at Officer Candidate School for years and years. It was evidence so persuasive that Congress and the White House couldn't ignore it.
And when his findings became key to a 60 Minutes investigation, the Commandant of the Marine Corps fueled the fire with his comments that, "minorities don't shoot as well as non-minorities...they don't swim as well, and when you give them a compass and send them on a land navigation exercise, they don't do as well at that sort of thing either."
Weeks later, Yamashita became Captain Yamashita, and his case became the catalyst for statutory and procedural reform to prohibit racial and ethnic discrimination in the Marine Corps and in all the branches of the military service.
It was, as the Assistant Secretary of the Navy observed, "a vindication not only of Capt. Yamashita, but a vindication of the process of a democracy." And it was, as Sen. Daniel Akaka noted, "a victory for civil rights in this nation."
Topics
A Most Unlikely Hero
Videos
---
Speech Topics
---
Fighting Tradition: A Marine's Journey to Justice
An inspirational David versus Goliath story. It reminds all of us that one person, with the support of a community, can overcome insurmountable odds and make a positive difference. It is often said that Asian Americans have benefited from the civil rights battles and victories by African Americans and Latino Americans. It is significant that this civil rights struggle was started, fought and won by the Asian American community, resulting in revisions to Marine Corps policy that will benefit all marines.
It is hoped that the lessons learned and sacrifices made will not be forgotten, and will inspire the next generation to continue the hard work to create a more perfect union.
Related Speakers View all
---
Jonny Kim

Physician, Navy SEAL, NASA Astronaut & First Korean-...

Kelvin Yu

Emmy Award-Winning Actor & Writer Known for "Master ...

Frank Wu

President of Queens College, City University of New ...

Phil Yu

Blogger & Founder, Angry Asian Man

Michelle Lee

Editor in Chief of Allure; AdWeek's Editor of the Ye...

Thi Bui

Cartoonist Known for her Award-Winning Memoir "The B...

Dr. Connie Mariano

Former White House Physician; Rear Admiral of the U....

Jessika Rovell

Attorney, Naval Intelligence Officer, and Sexual Vio...

Anna Akana

Actress, YouTube Star & Filmmaker

Gabrielle Union

Actress, Voice Artist, Activist, Author

Montel Williams

Emmy Award-Winning Talk Show Host Best Known For "Th...

Lisa Ling

Executive Producer & Host of This is Life on CNN

America Ferrera

Award-Winning Actress, Producer & Humanitarian

Cynthia Choi

Co-Director of Chinese for Affirmative Action

Tiffany Yu

CEO & Founder, Diversability

Tamra Simmons

CEO, Executive Producer, Writer, Talent Director & E...

Y-Vonne Hutchinson

Founder & CEO of ReadySet; Co-Founder of Project Inc...

Yai Vargas

Founder & CEO of The Latinista; Career Diversity & I...

Chella Man

Transgender Model, Activist & Artist

Gwen Carr

Activist, Author & Mother of Eric Garner
More like Captain