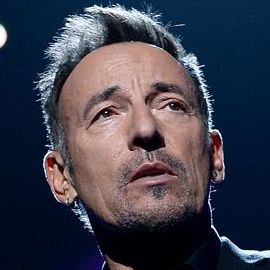 Bruce Springsteen has served as a cultural phenomenon (twice, at least), a brittle and dark acoustic storyteller, a folk revivalist, a new Dylan, a working-class hero, "rock 'n roll future," a force for political and social change, an eloquent songwriter and unabashed party-rocker (often in the same song), a live performer of legendary energies, and a prodigy and preacher of the "majesty, the mystery and the ministry of rock 'n roll."
But before the majesty, there was just New Jersey: Springsteen grew up and first assembled his E Street Band —many of whom remain onstage in 2012 — on its beaches and in its boardwalk clubs. His first two records were ambitious non-breakthroughs; his third, Born to Run (1975), made the kind of once-in-a-decade impact that resonates to this day; Born in the U.S.A. (1984), did it again. Early albums such as Darkness on the Edge of Town (1978) and The River (1981) began solidifying his position as a singer and songwriter of incalculable influence.
Yet for all his critical and commercial success, Springsteen's albums illustrated a drive to challenge his audience, as evidenced by the bleak, four-track-cassette-recorded Nebraska (1982), the introverted relationship document Tunnel of Love (1987), the E Street-less double-shot of Human Touch and Lucky Town (1992), the parched, acoustic The Ghost of Tom Joad (1995), the folk/New Orleans-flavored We Shall Overcome: The Seeger Sessions (2006), and the lush variety show Working on a Dream (2009).
In 1999, after a decade apart, Springsteen reconvened the E Street Band; in 2002 he released The Rising, an attempt to make sense of 9/11, and followed it in 2007 with Magic, an attempt to make sense of its complicated aftermath. The band has since remained a freight train, as active, prolific and resonant as at any point in its past. Yet in all shapes — in arenas and stadiums, in New Jersey and across the world, in quiet houses in January — Springsteen's music has strived to explore the crossroads of escape and redemption and the hard realities and cold compromises of American life — as well as the paramount need to keep hold of hope at all costs. "I can not promise you life everlasting," Springsteen shouted throughout the 1999 E Street Band reunion tour. "But I can promise you life — right now!"
A 1999 Rock and Roll Hall of Fame inductee, Springsteen has sold more than 65 million albums in the U.S. and 120 million worldwide. He's won 20 Grammys, an Academy Award, been a recipient of the Kennedy Center Honors and performed at halftime at the Super Bowl.
Books
---
Related Speakers View all
---
James Patterson

NY Times Best-Selling Author & Reading Champion

Nicholas Sparks

International Bestselling Novelist & Screenwriter, K...

Bill O'Reilly

Host of "The O'Reilly Factor," Best-Selling Author &...

Natalie Portman

Award-Winning Actress Known for "Black Swan," "V for...

Jennifer Lopez

Actress, Recording Artist, Dancer & Philanthropist; ...

Stephen King

Author of Contemporary Horror; Won Best Myster and T...

Bruno Mars

Grammy Award-winning Singer-Songwriter & Record Prod...

Lady Gaga

Award-Winning Pop Singer-Songwriter

Lin-Manuel Miranda

Tony Award-Winning Actor, Composer, & Lyricist; Know...

John Legend

Ten-Time Grammy Award Winning Musician & Philanthropist

Abby Wambach

6-Time U.S. Soccer Athlete of the Year; Two-Time Oly...

Beyonce Knowles

American Singer, Songwriter, Record Producer, Actres...

Lena Dunham

Filmmaker and Actress known for "Tiny Furniture" & H...

Cameron Diaz

Actress, Model & Author of "The Body Book;" Best Kno...

Ann Patchett

Celebrated Author, Devoted Reader and a Champion of ...

Tim Tebow

ESPN College Football Analyst; Heisman Trophy Winner...

Amy Schumer

Award-Winning Actress & Comedian; Author of "The Gir...

Larry Wilmore

Comedian & Cultural Commentator; Host and Executive ...

Jon Stewart

Talk Show Host, Comedian and Producer

Dr. Phil McGraw

"Dr. Phil" Host, NY Times Bestselling Author, Psycho...
More like Bruce