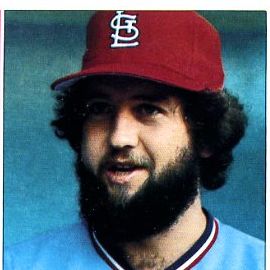 Bruce Sutter
Howard Bruce Sutter was born January 8, 1953 and is a former right-handed relief pitcher in Major League Baseball who was arguably the first pitcher to make effective use of the split-finger fastball.
Howard Bruce Sutter (pronounced  born January 8, 1953) is a former right-handed relief pitcher in Major League Baseball who was arguably the first pitcher to make effective use of the split-finger fastball.
One of the sport's dominant relievers in the late 1970s and early 1980s, he became the only pitcher to lead the National League in saves five times (1979–1982, 1984), and retired with 300 saves – at the time, the third highest total in history, behind Rollie Fingers (341) and Rich "Goose" Gossage (302), and an NL record until broken by Lee Smith in 1993; Sutter had set the NL record in 1982 with his 194th save, surpassing the mark held by Roy Face. In his first nine seasons, only Kent Tekulve made more appearances, and he saved 133 of the Chicago Cubs' 379 wins between 1976 and 1980. In 1979, Sutter won the NL's Cy Young Award as the league's top pitcher. He was inducted into the Baseball Hall of Fame in Cooperstown in 2006.
Contents
Sutter graduated from Donegal High School. Sutter was a member of three different teams during his career from 1976 to 1988. After being selected by the Washington Senators in the 21st round of the June 1970 draft, Sutter instead attended Old Dominion University, and later signed with the Cubs as a free agent in September 1971. He spent slightly over four seasons in the Cubs' farm system, and played on the 1975 Texas League (AA) champion Midland Cubs. It was in the Cubs' farm system that Sutter was taught the split-finger fastball by minor league pitching instructor Fred Martin. He joined the Chicago Cubs in May 1976, and after five seasons was traded to the St. Louis Cardinals for Leon Durham and Ken Reitz in December 1980, and then joined the Atlanta Braves in December 1984 as a free agent.
In 1979, Sutter saved 37 games for the Cubs, tying the NL record held by Clay Carroll (1972) and Rollie Fingers (1978). In addition to the Cy Young Award, Sutter also won both the Rolaids Relief Man of the Year Award and The Sporting News Fireman of the Year Award in 1979, 1981, 1982 and 1984. He was a member of the Cardinals team which won the 1982 World Series and is credited with two saves in that Series, including the Series-clinching save in Game 7 which ended with a strikeout of Gorman Thomas and a leaping hug by catcher World Series MVP Darrell Porter; Sutter also earned the save in the pennant-clinching victory in the NLCS.
In 1984, he tied Dan Quisenberry's major league record, set the previous year, for most saves in a season (45), a record broken by Dave Righetti (46) in 1986; Sutter's NL record was broken by Lee Smith (47) in 1991.
Sutter was named to the NL's All-Star team six times (1977–1981, 1984), appearing in the games of 1978 through 1981. He played a major role in all four contests, earning the win in 1978 and 1979, and saves in 1980 and 1981.
On September 8, 1977, Sutter struck out three batters on nine pitches — Ellis Valentine, Gary Carter and Larry Parrish — in the ninth inning of a 10-inning 3-2 win over the Montreal Expos. Sutter became the 12th National League pitcher and the 19th pitcher in Major League history to accomplish the nine-strike/three-strikeout half-inning. Sutter had also struck out the side (though not on nine pitches) upon entering the game in the eighth inning, giving him six consecutive strikeouts, tying the NL record for a reliever.
He was momentarily the highest paid player in baseball, although he agreed to have his Atlanta contract configured so that he was paid $750,000 for six years with the rest going into an insurance fund that was to be structured to pay him $1,000,000 for 30 years.
Upon retirement, Sutter stayed near Atlanta with his wife and three sons. He has had three shoulder surgeries, three knee surgeries, an elbow operation, and two back operations.
His son Chad was a catcher who played for Tulane University and was selected by the New York Yankees in the 23rd round (711st overall) of the 1999 amateur draft.
CardsRetired42.PNG
Bruce Sutter's number 42 was retired by the St. Louis Cardinals in 2006.
On January 10, 2006, Sutter was elected to the Baseball Hall of Fame in his 13th year of eligibility by receiving 400 votes out of a possible 520, or 76.9%. He is the first pitcher who never started a game to be elected to the Hall, and with 1042 1/3 career innings pitched he is also the first inductee to end his career with fewer than 1700 innings. Sutter's Hall of Fame plaque depicts him wearing a Cardinals cap and his trademark beard.
Not since Ralph Kiner in 1975 had a player been elected to the Hall of Fame by the BBWAA so late in their eligibility period; Kiner was elected in his 15th and final opportunity.
Sutter's number 42, which he wore throughout his career, was retired by the St. Louis Cardinals during a ceremony at Busch Stadium on September 17, 2006. He shares his retired number with Jackie Robinson, whose number 42 had previously been retired by "all" Major League teams in 1997.
On August 23, 2010 it was announced that he would be a consultant for the Philadelphia Phillies minor league teams.
Videos
---
Related Speakers View all
---
Goose Gossage

Former Major League Baseball Relief Pitcher

Jim Rice

James Edward "Jim" Rice was born March 8, 1953 in An...

Ozzie Smith

15-Time MLB All-Star & National Baseball Hall of Fam...

Ryne Sandberg

Former Major League Baseball Second Baseman

Bob Gibson

Hall of Fame Pitcher with the St. Louis Cardinals; N...

Rollie Fingers

Fingers is regarded as a pioneer of modern relief pi...

Max Scherzer

American Professional Baseball Pitcher, Detroit Tigers

Matt Harvey

Matthew Edward Harvey is an American Major League Ba...

Greg Maddox

Baseball Player

Rickey Henderson

African American professional baseball player

Rafael Palmero

Thus the Holy Father accepted the resignation of t...

Larry Walker

Entries on this list discuss the plight of Relief Pi...

Doc Gooden

Former MLB pitcher Dwight 'Doc' Gooden has been char...

Roberto Alomar Jr.

Former Major League Baseball Player, Elected to Base...

Ray Lankford

COOPERSTOWN, N.Y. -- Busch Memorial Stadium, the hom...

Andre Dawson

Former Outfielder for the Montreal Expos & Chigaco C...

Tommy John

Former MLB Baseball Pitcher

Sammy Sosa

Former Professional Baseball Player, Businessman and...

Phil Niekro

Philip Henry Niekro was born April 1, 1939 and nickn...

Ralph Kiner

Ralph McPherran Kiner was born October 27, 1922 and ...
More like Bruce