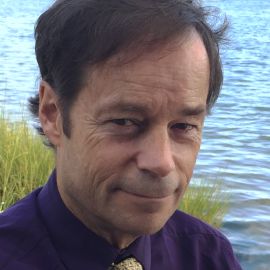 While becoming a writer, Bruce Watson worked as a factory hand, a journalist, a bartender, an office temp, a Peace Corps volunteer, and an elementary school teacher.
As a frequent contributor to Smithsonian, Watson wrote more than 40 feature articles on subjects ranging from eels to Ferraris to the history of Coney Island. His articles have also appeared in The Los Angeles Times, The Boston Globe, The Wall Street Journal, The Washington Post, Newsweek, Yankee, and The Best American Science and Nature Writing 2003.
Bread and Roses was chosen by the New York Public Library as one of "25 Books to Remember in 2005." Sacco and Vanzetti: The Men, The Murders, and The Judgment of Mankind" was a Book of the Month Club Selection and was nominated by the Mystery Writers of America for an Edgar Award.
Watson holds a Master's Degree in American history from the University of Massachusetts and lives with his wife and two children in Western Massachusetts. He is currently at work on a "biography" of Light.
News
---
Author Bruce Watson will deliver keynote address at Miami's convocation
Author Bruce Watson will deliver the keynote address. Watson wrote Freedom Summer: The Savage Season of 1964 That Made Mississippi Burn and Made America a Democracy, which was selected for this year's summer reading program. The book details a pivotal moment in the civil rights movement.
Related Speakers View all
---
Richard Brookhiser

Journalist, Biographer, Historian & Senior Editor at...

Tracy Chevalier

Historical Novelist Best Known for Her Second Novel,...

Ilyasah Shabazz

Daughter of Malcolm X, Professor & Author

Chris Emery

Chief Enterprise Architect at U.S. Securities & Exch...

Jane Sherron De Hart

Political Historian & Author of "Ruth Bader Ginsburg...

Dr. Brent D. Glass

Director Emeritus, National Museum of American Histo...

Jason Reynolds

Critically Acclaimed Author & NAACP Image Award Winner

Clifton Truman Daniel

Lecturer, Published Author and the Oldest Grandson o...

Thomas King

Award-Winning First Nations Writer

Daniel James Brown

New York Times Bestselling Author of "The Boys in th...

Donalyn Miller

Educator & Author of "The Book Whisperer" and "Readi...

Todd Purdum

Senior writer at POLITICO and a contributing editor ...

Cynthia Germanotta

Co-Founder of the Born This Way Foundation with Daug...

Kim Stanley Robinson

Bestselling & Award-Winning Science Fiction Writer

John Cantwell

John Cantwell, Guest Writer / United States / Supers...

Mitch Resnick

Mitchel Resnick is LEGO Papert Professor of Learning...

James Loewen

Sociologist, Historian, & Author of "Lies My Teacher...

Daniel Kurtz-Phelan

Executive Editor of Foreign Affairs, Council on Fore...

Tiffany Jewell

Anti-Racist Educator, Author of "This Book is Anti-R...

Paul Ortiz

Historian, Professor, Author of "An African American...
More like Bruce