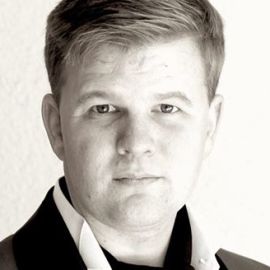 Bruno Bowden
Equity Partner at Data Collective; Former Engineering Manager on Google Earth and Enterprise Gmail; TED Speaker on Innovation; Specializes on Autonomous Vehicles
Bruno Bowden is an engineer, entrepreneur and venture investor in technology startups. He was an Engineering Manager at Aurora Innovation and also was an Equity Partner at Data Collective Venture Capital, where he invested in the latest generation of technology startups. His personal angel investments include 25 companies ranging from big data to travel, mobile advertising, peer-to-peer car sharing and Bitcoin. Previously he worked at Google for seven years, holding engineering leadership roles in Enterprise Gmail and Google Earth. Scaling Enterprise Gmail to a $1B business and scaling Google Earth to over 1 billion installs. He also ran Google's Santa Tracker, allowing tens of millions of children to follow Santa as he traveled around the world.
Bowden has had the honor of presenting twice at the TED conference on Blindfolded Origami and Santa Tracker. The videos from his TED talks have been watched more than 300,000 times. His more fun jobs have included stints working as a travel writer and the animated film "Ice Age" (nominated for an Academy Award). He received his bachelor's degree in computer science from Cambridge University.
Speech Topics
---
Google Santa Tracker
NORAD is tasked with nuclear defence of North America. Since 1955 it has run the "NORAD Tracks Santa" program. To bring the service online, they collaborated with Google - a company whose culture could not be more different. Bruno lead the team to navigate the cultural chasm to foster an intensely collaborative and trusting partnership. The result allowed tens of millions of children to enjoy Santa's journey around the world.
Blindfold Origami
Bruno's first TED talk, with Al Gore and other dignataries in attendance. Being blindfolded, a single mistake meant certain disaster. After 3 months of practice and 3 minutes of stage fright, the result worked perfectly. The original violinist model is by Robert Lang. The cellist is Rufus Cappadocia.
How Marketplaces Win
We're all a part of marketplaces that need to perform well, from Manufacturers and Distributors to Buyers and Sellers. Silicon Valley has a unique history on fostering new marketplaces, from creating the Internet to Google Android which took 80% market share within 7 years of launch. Learn how Silicon Valley does this by relying on openness, trust and standards. The ultimate answer being to create your own marketplace by creating an ecosystem around it.
Serving a Billion Customers
A new class of companies have emerged with over a billion customers. Bruno lead engineering on one of those: Google Earth, which has over 1 billion installs. WhatsApp, for example, served 600 million customers with 60 employees, selling for $18 billion to Facebook. Bruno will explain how software allows you to scale and serve these markets. How it can personalize the experience and grow through "virality" and what this means for marketing and growth in any industry.
Peak Performance
From reaching $1 billion annual revenue on Enterprise Gmail to 1 billion installs on Google Earth, Bruno has enjoyed setting high goals and accomplishing them. Behind every success though is a great deal of failure and lessons learned. Silicon Valley thrives on "failing fast" and learning from it. Most importantly is how you respond to failure... Do you give up? Or persevere against long odds until you succeed?
Google Innovation
How does Silicon Valley innovate? What values made Google successful? For over 30 years, Silicon Valley has been the pre-eminent innovation and economic center of the world. It's succeeded by constantly reinventing itself and pushing the boundaries. From focusing on users to rapid iteration, learn how to foster this innovation in your business.
How Software is Eating The World
Apple Pay by tapping your phone. How will technology change your own industry and how should you prepare for it? Bruno will speak on how to thrive and prosper in this transformation. As highlighted by Marc Andreessen in his essay in the Wall Street Journal.
Big Data and Cloud Computing
The cloud is changing the way business uses technology and data. The immediate gain is lower costs, the greater opportunity is easier scaling and better decision making through Big Data. Leading the engineering of Google Earth, Bruno helped pioneer "Big Data" for the world's geographic information.
Cyber Security
When a nation state attacked Gmail in 2010, Bruno was leading the engineering team on Enterprise Gmail. How did Google discover and respond to this intrusion? Bruno is an expert in cryptography and securing complex systems. He will explain the threats you should be most concerned about and how to secure against them.
Tesla World Record
In May 2012, Elon Musk issued a challenge for a Tesla Model S driver to go over 400 miles on a single charge. Bruno responded in Feb 2013 by setting the world record of 425.8 miles, a record that still stands today. The record was announced during Elon Musk's interview at TED 2013.
Related Speakers View all
---
Jack Shaw

Corporate Financial Executive, Software Company Exec...

Alex Salkever

Futurist, Author of "The Driver in the Driverless Ca...

Danielle Feinberg

Director of Photography at Pixar Animation Studios; ...

Mitch Lowe

Former Co-founding Executive of Netflix; Former Pres...

Josh Linkner

Five-Time Tech Entrepreneur; Hyper-Growth CEO; NY Ti...

Nicole Yeary

Founder & CEO of Ms.Tech, A Company That Aims to Sup...

R "Ray" Wang

Founder, Chairman & Principal Analyst at Constellati...

Scott Klososky

Enterprise Social Technology Expert, Start-Up Pionee...

Beena Ammanath

Executive Director of Deloitte AI Institute & Founde...

Mike Walsh

CEO of Tomorrow; Global Nomad & Futurist; Bestsellin...

Matthew Luhn

Former Pixar Animator, Story Artist, Creativity Expe...

Brian Solis

Digital Analyst, Futurist & Author of "What's the Fu...

Daniel Burrus

Technology Futurist, Business Strategist & Hall of F...

John Rossman

Former Amazon Executive, Author & Expert on Digital ...

Afdhel Aziz

Leading Expert on Brand Purpose & Marketing Innovati...

Olympia LePoint

Award-Winning Rocket Scientist, Self-Help Author & H...

Terry Jones

Digital Disruptor, Author & Venture Capitalist

Scott Steinberg

CEO of TechSavvy Global, Strategic Innovation Consul...

Dr. Mark van Rijmenam

Founder & CEO of Datafloq, Internationally Renowned ...

Lolita Taub

Latina Tech Venture Capitalist; Co-Founder & General...
More like Bruno