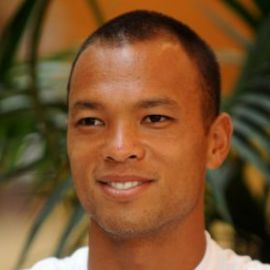 At his mother's bidding, Bryan Clay - an unruly child from a broken home - focused his energies on track-and-field and dreamed of an Olympic medal. Not only did he capture the silver in 2004 and the gold in 2008 - as well as a World Champion title in 2005 - in the decathlon, but he obtained the title of "World's Greatest Athlete," joining an elite group that includes Jim Thorpe, Dan O'Brien, and Bruce Jenner.
Just as his mother had urged him to hone his talents into track-and-field, Clay encourages other children to reach their full potential through The Bryan Clay Foundation. Founded in 2005, it helps youth make healthy choices, pursue active lifestyles, and establish habits that lead to well-being.
His memoir, Redemption, tells the story of his unlikely path from a fist-fighting, drug-using, pre-suicidal kid in Hawaii to world champion in the toughest Olympic sport, a victory he accords to his rediscovered faith and his mother's relentless prayers.
Today, Bryan Clay is an influential public speaker whose ability to relate to people inspires and motivates audiences across the nation. He has spoken to such companies as Capital One, Northwestern Mutual, and United Airlines, urging audiences to reach their maximum potential and always seek the gold.
Speech Topics
---
Success: It's the Journey, Not the Outcome
Drawing on his troubled childhood as a fist-fighting, drug-using, pre-suicidal youth in Hawaii and later as a college student-athlete with little direction in life, Bryan Clay speaks on the difficulties he experienced on his unlikely path to Olympic gold. He explains that one's success in life is not necessarily about the final outcome, but rather, the journey one takes to get there. In this poignant keynote, Clay shares personal anecdotes to prove that the lessons he's learned along the way have been far more valuable than the outcomes themselves.
Life Balance: Faith, Family - Then Everything Else
Bryan Clay discusses how he balances his life by keeping his faith at the forefront. His unwavering faith in Christ and devotion to his family as a father and husband are the sources of his strength, allowing him to be mentally, physically, and emotionally sound for his athletic endeavors. In this inspiring talk, Clay explains that once you've figured out your priorities, everything else simply falls into place. He helps audiences find their own balance and order in life.
News
---
Bryan Clay
Bryan Clay. Olympic Gold-Medal-Winning Decathlete. Comments. Tweet. The Big Brain Theory: Pure Genius Pilgrim Studios. The Big Brain Theory: Pure Genius ...