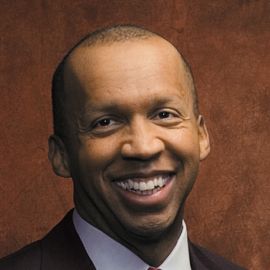 Bryan Stevenson
Founder & Executive Director of the Equal Justice Initiative, Bestselling Author of "Just Mercy"
Bryan Stevenson is the founder and Executive Director of the Equal Justice Initiative, a human rights organization in Montgomery, Alabama. Under his leadership, EJI has won major legal challenges eliminating excessive and unfair sentencing, exonerating innocent death row prisoners, confronting abuse of the incarcerated and the mentally ill, and aiding children prosecuted as adults.
Stevenson has argued and won multiple cases at the United States Supreme Court, including a 2019 ruling protecting condemned prisoners who suffer from dementia and a landmark 2012 ruling that banned mandatory life-imprisonment-without-parole sentences for all children 17 or younger. Stevenson and his staff have won reversals, relief, or release from prison for over 135 wrongly condemned prisoners on death row and won relief for hundreds of others wrongly convicted or unfairly sentenced.
Stevenson has initiated major new anti-poverty and anti-discrimination efforts that challenge inequality in America. He led the creation of two highly acclaimed cultural sites which opened in 2018: the Legacy Museum and the National Memorial for Peace and Justice. These new national landmark institutions chronicle the legacy of slavery, lynching, and racial segregation, and the connection to mass incarceration and contemporary issues of racial bias. Stevenson is also a Professor of Law at the New York University School of Law.
Stevenson's work has won him numerous awards, including the prestigious MacArthur Foundation "Genius" Prize; the ABA Medal, the American Bar Association's highest honor; the National Medal of Liberty from the American Civil Liberties Union after he was nominated by United States Supreme Court Justice John Stevens; the Public Interest Lawyer of the Year by the National Association of Public Interest Lawyers; and the Olaf Palme Prize in Stockholm, Sweden, for international human rights. In 2002, he received the Alabama State Bar Commissioners Award. In 2003, the SALT Human Rights Award was presented to Stevenson by the Society of American Law Teachers. In 2004, he received the Award for Courageous Advocacy from the American College of Trial Lawyers and also the Lawyer for the People Award from the National Lawyers Guild. In 2006, New York University presented Stevenson with its Distinguished Teaching Award. Stevenson won the Gruber Foundation International Justice Prize and was awarded the NAACP William Robert Ming Advocacy Award, the National Legal Aid & Defender Association Lifetime Achievement Award, the Ford Foundation Visionaries Award, and the Roosevelt Institute Franklin D. Roosevelt Freedom from Fear Award. In 2012, Stevenson received the American Psychiatric Association Human Rights Award, the Birmingham Civil Rights Institute Fred L. Shuttlesworth Award, and the Smithsonian Magazine American Ingenuity Award in Social Progress. Stevenson was inducted into the American Academy of Arts and Science in 2014 and won the Lannan Cultural Freedom Prize. In 2015, he was named to the Time 100 list recognizing the world's most influential people. In 2016, he received the American Bar Association's Thurgood Marshall Award. He was named in Fortune's 2016 and 2017 World's Greatest Leaders list. He received the Martin Luther King Jr. Nonviolent Peace Prize from the King Center in Atlanta in 2018.
Stevenson has received over 40 honorary doctoral degrees, including degrees from Harvard, Yale, Princeton, the University of Pennsylvania, and Oxford University. He is the author of the critically acclaimed New York Times bestseller, Just Mercy, which was named by Time Magazine as one of the 10 Best Books of Nonfiction for 2014 and has been awarded several honors, including the American Library Association's Carnegie Medal for best nonfiction book of 2015 and a 2015 NAACP Image Award. "Just Mercy" was recently adapted as a major motion picture. He is a graduate of the Harvard Law School and the Harvard School of Government.
Speech Topics
---
American Injustice: Mercy, Humanity and Making a Difference
America has the largest prison population in the world – and the criminal justice system that puts the men, women, and children in these prisons is broken. Excessive punishment and abuse are widespread, and the collateral consequences are devastating lives and communities. An inspiring and unflinchingly honest speaker, Bryan Stevenson talks about defending some of America's most rejected and marginalized people. The stories he tells are heartbreaking, yet inspiring, and motivate audiences to make a change.
Related Speakers View all
---
Van Jones

CEO of REFORM Alliance, CNN host, Emmy Award-winning...

Baratunde Thurston

Futurist Comedian, Writer & Cultural Critic

Dan Ariely

Behavioral Economist; Professor at Duke University; ...

Susan Rice

Director of the White House Domestic Policy Council ...

John Legend

EGOT Winning Musician, Producer & Philantropist

Bill Drayton

Social Entrepreneur, Founder & C.E.O of Ashoka. Lead...

Donna Brazile

Veteran Political Strategist, Bestselling Author, Fo...

Sir Richard Branson

Businessman & Founder of Virgin Group

Avi Rubin

Professor of Computer Science & Technical Director o...

Raj Patel

Award-Winning Writer, Activist & Academic

Dr. Cornel West

Philosopher, Professor, Political Activist, Author o...

Peter Diamandis

Founder & Executive Chairman of the XPRIZE Foundatio...

Angela Davis

Feminist, Social Activist, Professor & Writer

Erica Frenkel

Chief Operating Officer at Gradian Health Systems

Michael Eric Dyson

MSNBC Political Analyst, Former Host of NPR's "The M...

Peter Hinssen

Cloud Computing & Technology Expert, Thought Leader ...

Matthew Bishop

Managing director, Rockefeller Foundation and Former...

Alexis Ohanian

Co-Founder of Initialized Capital & Co-Founder of Re...

Clay Shirky

Expert on New Technology & Social Media, & How They ...

R "Ray" Wang

Founder, Chairman & Principal Analyst at Constellati...
More like Bryan