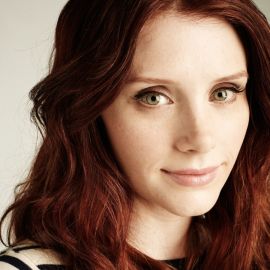 Bryce Dallas Howard, daughter of Ron Howard, wanted to pursue acting from a young age and graduated from NYU's Tisch School of Arts in 2003. She appeared in a several films including M. Night Shyamalan's "The Village." In 2009, she agreed to play Victoria in the third "Twilight" film.
A year after graduating NYU, Howard's film career rolled forward, first in a supporting role as Heather in "Book of Love," and then as a young blind girl in the M. Night Shyamalan thriller, "The Village." Two years later she appeared in a second Shyamalan project, "Lady in Water." Her other credits include "Manderlay," "As You Like It," "The Loss of a Teardrop Diamond" and "Terminator Salvation."
Like her father, Bryce Dallas Howard, who sometimes goes by the nickname of Bry, isn't shy about working on big-budget Hollywood films. In 2007 the actress, playing Gwen Stacy, was one of the stars in the third "Batman" movie. Then, in the summer of 2009, Howard's name bounded across the Internet and in movie publications when she was tapped to replace Rachelle Lefevre to play the villain Victoria in the upcoming third installment of the "Twilight" franchise.
Howard became more recognizable to audiences as Gwen Stacy in "Spider-Man 3." Her most recent films are "The Help" in 2011 and "50/50" also in 2011, both of which were critical and box office successes.
Howard admitted to suffering from post-partum depression. Howard had difficulty breast-feeding, which she found to be more painful than experiencing natural child birth and would often cry in the shower. Rather than refer to her son by his name, she would call him "it". Feeling overwhelmed and unable to make decisions, Howard also felt not only disconnected from her husband and baby, but herself as well. With the combination of homeopathic treatments and sessions with a physician and a therapist, she overcame the depression, which lasted for about 18 months.
Related Speakers View all
---
Chris Pratt

Actor Known for "Parks & Recreation" & "Guardians of...

Linda Cardellini

Actress Known for her Roles in "Freaks and Geeks," "...

Karen Gillan

Actress, Known for Her Role as Amy Pond on "Doctor W...

Logan Browning

Actress & Singer-Songwriter; Best Known for Her Role...

Rachelle Lefevre

Rachelle Lefevre is a Canadian actress. She played t...

Juliette Binoche

Juliette Binoche is an award-winning French actress,...

Nicole Kidman

Actress, Singer & Film Producer; Known for "The Hour...

Aubrey Plaza

Actress, Comedian & Producer; Best Known for NBC's "...

Chloë Sevigny

Actress and Model; Known for "Boys Don't Cry" and "A...

Zazie Beetz

Emmy Award-Nominated Actress; Known for "Atlanta"

Sarah Paulson

Emmy Award-Winning Actress Known for Her Roles in "A...

Yaani King

Yaani King is an American actress of West Indian/Guy...

Maggie Siff

Actress Known for her Roles in "Sons of Anarchy" and...

Ashley Hinshaw

Actress and Model

Samantha Barks

Samantha Jane Barks is a British actress and singer ...

Carla Gugino

American Actress; Known for Lead Role in Spy Kids Fi...

Reese Witherspoon

Academy Award-Winning Actress & Producer, Founder of...

Patricia Velasquez

Actress and Model; Best Known for "The Mummy" and "T...

Kristen Stewart

Actress Known for Playing Bella in the "Twilight" Films

Kathy Bates

Academy Award-Winning Actress; Cancer Survivor & Cha...
More like Bryce